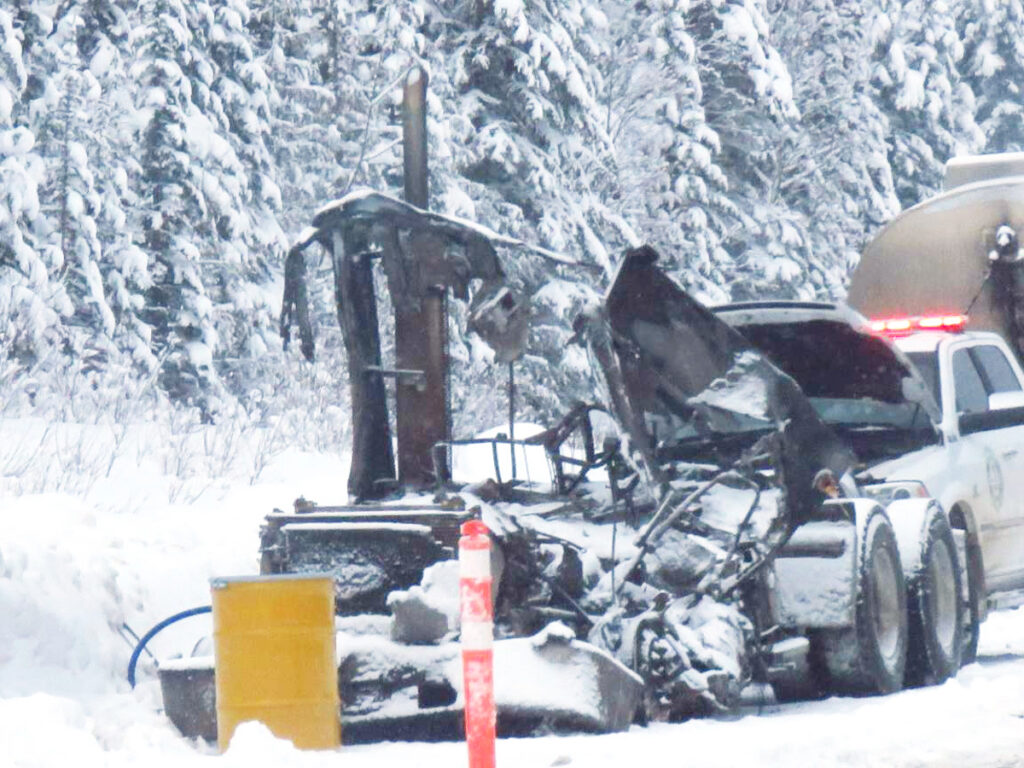 Highway 16 was closed west of Lamming Mills for several hours on Saturday night due to a vehicle fire.  The driver escaped the blaze, but the cab was destroyed.  The highway was opened to single lane traffic until the debris could be cleared Sunday morning. /ANDREA ARNOLD
By Andrea Arnold
Just after 7:30 p.m. Saturday, emergency crews from McBride responded to a tanker truck on fire near the West Twin Creek Bridge, 28 kilometres west of McBride.
McBride District Volunteer Fire Department Chief Dave Hruby reported that although the truck cab was allowed to burn itself out, the attached tanks did not catch fire. A two kilometre area was evacuated as a precaution.
The vehicle was travelling eastbound when the driver noticed the fire in the cab and was able to escape without injury. The truck was abandoned blocking the lane and part of the westbound lane.
"The cab itself caught on fire and he set the brakes and jumped out," said Hruby. "The front two-thirds of the truck from the sleeper forward was burnt, but the tanker itself was not compromised at all," said Hruby. "That's 50,000 litres; I wouldn't want to be there."
Highway 16 was closed at Lamming Mills on the McBride side for several hours as the blaze raged Saturday night. By mid-morning Sunday the wreckage had been moved to the nearest roadside pull out and the Ministry of Environment was on hand to ensure no spillage had occurred.
An article in the Prince George Citizen reported that no fuel spilled into West Twin Creek and a pump truck from Edmonton was called to the scene in case there was the need to transfer the fuel in the tanker to another container. A transfer was not necessary however as the full trailer could be hauled by another truck.