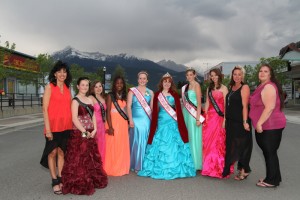 By Laura Keil
The Miss Valemount pageant has named its queen – 15-year-old hip-hop dance lover Cypris Arntson was named Miss Valemount 2014.
Miss Congeniality was Alex MacDonald and Princess was Taylor Clark-Felton.
Arntson says she is happy and proud to be named Miss Valemount.
This year is the first in many years to have a pageant competition; it was spearheaded by Carmen Byford, Sherry Tinsley and Serena Dawson. The contest was open to both boys and girls, but no boys entered the Mr. Valemount competition.
Sherry Tinsley, one of the organizers, said the contestants were judged on a number of criteria including attendance to various community events, their attitude, and their appearance. The three secret judges were Derrick and Angie Perkins and Linda Hedberg.
Tinsley says it wasn't an easy decision for the judges.
"It was a tough one for them – I knew it would be," she said.
Eight young women vied for this year's crown and was sponsored by a local company or organization. The contestants were Courtney Byford, Miss CN Rail; Alex MacDonald, Miss Spaz Logging; Cypris Arnston, Miss Jerry Plumber Logging; Denice Kapungu, Miss Sew Hot Embroidery; Taylor Clark, Miss Valemount Pines; Taylor Beallie, Miss Valemount Learning Centre; Shae-Lynn Carlson, Miss Petro Canada; and Darci Peever, Miss Lions Hall.
The winners were announced at an event the Friday evening of Valemountain Days. Each contestant gave a speech, Prince-George Valemount MLA Shirley Bond gave a speech, the Senior King and Queen were crowned (Dorothy and Len Jones) and gifts were given to the sponsors, the girls and the organizers.
Arntson says her speech included references to local people who have inspired her. She named two local people – Shelly Mainprize and Shelly Forman – whose guidance she took to heart. Mainprize told her that a little smile can change someone's day. Forman told her that an act of kindness can take you far. She says both have taught her that the best world we can live in is one we build together.
The Grade 9 student says she got involved in the pageant because she thought it would be a fun experience, a good chance to meet everyone in town and to learn people skills.
"I think I learned more how to approach people and just generally how to speak more publicly," she told the Goat in an interview.
She says the most difficult part was coordinating with the other participants to figure out who was doing what at each event they attended.
Arntson created her own original dance at the Talent Show for participants at the end of May. Arntson says she first got into dance in Gr. 6, when the teacher brought in a special guest to teach her class dancing.
Since that time she has continued to hone her skills, and gave a special dance lesson to street dance goers Friday night following the coronation.
Arntson says part of her role as Miss Valemount is to attend public events over the next year wearing her cape, sash and crown. She says being Miss Valemount is being a role model.
"If someone comes to town and sees Miss Valemount, they're going to want to see someone who's caring for the kids, helping with activities and being around. I wouldn't want to come to Valemount and see someone who's sad. When I think of Valemount I think of happy and beautiful, so we want Miss Valemount to be happy."
She says to be Miss Valemount, you're going to be caring, respect Valemount, and accept the responsibility that you now have.
"You're not going to go out and party, if you have to be somewhere in the morning. You're there; you're not ditching because you have a friend down; you have to attend your duties."
The moment her name was announced as the winner will be one she remembers forever. Her whole family was there. Her aunt knocked down several chairs when she jumped up. There was laughing, crying, and clapping. Her family ran up to her at the stage and they had a really big family hug.
"I almost fell on my heels because one of my cousins jumped on me," Arntson says, smiling.
The other girls were really supportive, Arntson says, congratulating her on her win.
As far as advice for someone who wishes to enter next year's competition, Arntson says keep your head up, good luck and be yourself.
"You don't want to try for it and be someone totally different."
She admits she had doubts about being herself when she first entered the contest, but then she thought about having to pretend to be someone else for an entire year if she won the competition. That's when she decided it was better to be herself.
As a result, she says she feels more confident. She says Valemount knows her better, and it brought her close to all the contestants and to Valemount.
"It was amazing to watch these girls – the growth in each of them," Tinsley told the Goat. "Their confidence building within themselves… We went from girls crying and throwing up to their speeches Friday night – they were like different girls."
Tinsley says the contestants had a good experience doing things they'd never done – like selling 50/50 tickets, participating in the rodeo and the ALS walk. They were scared to do talent and fashion but you couldn't tell when they were up on the stage, she says.
The Miss Valemount parade float also won first in the Novelty category.
Congratulations to all the Pageant Participants! We are proud of you.