By Andru McCracken
---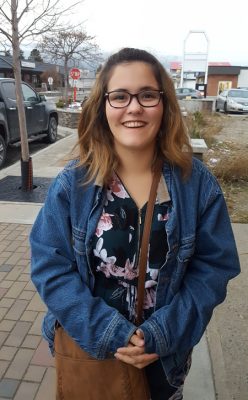 With the help of her friends and family, Julie Williams has made it to her final year of high school and has begun applying for college and university programs.
And she has been through a lot. She had a child in Grade 10.
Shortly after Spencer's birth she was diagnosed with postpartum depression. Even before his birth, she said she felt down.
"I used to be so down on the world," she said. "I didn't think anything could get better than what it was."
But getting treatment for that depression sparked a positive change in her life.
"I started thinking about the future instead of how different everything was (with a baby)," she said.
Despite missing two months of school, she has graduated on time.
Now she is looking at post-secondary options. She's applied to a four year program studying psychology at the University of Northern British Columbia and also to a practical nursing program at the College of New Caledonia. Both are located in Prince George.
"I'm so grateful," she said. "Before I didn't have plans on going to university or college, but after having him, it did push me a lot."
"I just want to make sure he has a good life and provide for him in the future," she said.
Williams said Valemount Secondary School helped her be successful.
"The school has backed me up a lot," she said. "Our former principal Mr. Kenkel made sure I had everything in order to go to school. He did a lot to help me."
She said it was hard, but she's had many people helping her out. Her cousin Cypris Arntson babysat through a subsidy program for the first year from 8 am until 3 pm. Arntson said she saw the determination and positive attitude that Julie brought to the task at hand.
"I'm super proud of her," said Arntson. "I have high expectations for her and she has done more than I thought she would."
Arntson said her cousin's positive attitude shone through even during the challenges.
Julie now lives with Ellen and Jason van der Wilk. She said they help her out as well.
"It's really fun," Williams said. "It's crowded but it's great."