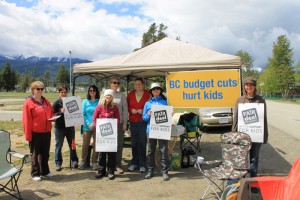 By: Thomas Rohner
BC teachers began a full withdrawal strike June 17th, but exams for Grades 10, 11 and 12 students will go ahead as scheduled. It appears students' last day of school will have been Thursday, June 12.
A press release issued on District 57's website Tuesday said bus service will run mornings and afternoons for the duration of the exam period, June 18 – 24. "No other students may ride the bus," the press release said.
A letter to parents from the District's superintendent, Brian Pepper, dated June 12, said course marks for Grade 12 students will be submitted later this month. The provincial government's website said exams will be marked in July, with report cards sent out thereafter, but that report cards for Kindergarten all the way up to Grade 11 are "not deemed an essential service." Districts will determine the timeline and method of progress evaluation; District 57 has not yet released any information about this.
A press release from the BC Public School Employers' Association (BCPSEA), issued on June 12, instructed teachers and school staff to carry out scheduled year-end evaluations for special needs students in preparation for the next school year. It also said staff "will not picket entrances designated by the Local Union for students to attend school to write examinations."
Provincial Education Minister Peter Fassbender released a statement Monday which said the BCPSEA tabled a "significant, affordable and creative set of proposals to help end the stalemate" during weekend negotiations. The proposals included "an improved wage offer" and "realistic and flexible solutions to address class composition."
The education minister's goal is to have an agreement in place by June 30.