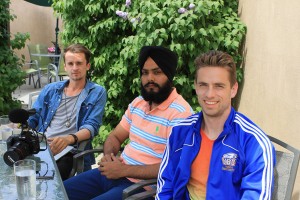 By: Korie Marshall
Jonathan Walker wanted to do a 1500 km run from Hope to Saskatoon by himself, but a friend suggested he would need a support crew. So he found Jarnail Singh and Max Krieger from Capilano University's film school, who are making a documentary to capture the sense of communities Walker is encountering along the way. When we reached the trio at The Gathering Tree, getting ready for the next leg to Moose Lake on Tuesday June 3, Walker was just getting his bear spray out. He admits he's not sure how to use it, but he'd already run by a grizzly on the side of the road.
The project is called Running 4 Great Hope, a fundraising effort to build a new school for displaced students from the Great Hope Education Centre in Kenya, where Walker spent some time. He's trying to reach Saskatoon by June 25, and is hoping to raise $115,000.
Walker says communication on this stretch has been difficult, because their cell phone carrier does not cover this section of the North Thompson and Robson Valleys, and the film crew doesn't stay with him while he's running.
Singh says he and Krieger have been making short promotional films for some of the businesses they encounter, with any donated proceeds going to the fundraising effort. They accidentally left some film gear behind at one business, and the owners found them through their Facebook page and got the gear back to them.
"The hospitality we experience along the way is just mind blowing," says the trio on their Facebook page, after their stay in Valemount. Follow their journey at facebook.com/running4greathope or at youcaring.com/running4greathope