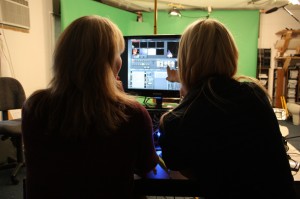 By: Laura Keil
Valemount Community Television is in the running for three awards, but after an early lead in one category, our local station has fallen behind with only weeks until voting closes.
Anyone can vote for the station every 24 hours on each browser or device, both on the English page and the French page.
The Valemount Entertainment Society has been nominated in the Best Community Building Story category for the 2013 Outdoor Nativity Pageant; VCTV and Tourism Valemount have been nominated in the Best Entertainment Programming category for the Discover Valemount Series; and VCTV has been nominated in the Best News/Issue Programming category for great coverage of local events like the Chili Cook-off.
One of the nominations says "the cable guy helped with everything from lighting and location of production to producing the final project. He even delayed his Christmas vacation to film the small local production."
Along with bragging rights, VCTV could win $1,000 in each category to donate to our favorite local charity or charities, says Gord Peters, the station manager and otherwise known as "the cable guy."
You can vote once per day per category at http://www.iheartlocalcable.ca/vote/, and voting is open until the end of June.