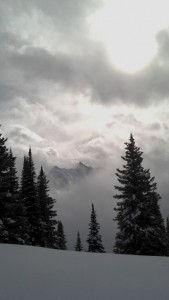 By Laura Keil
It may seem like winter is over – but up in the mountains, the powder is still fresh.
Last Friday I got the opportunity to try out the Cinnamon family's cat ski operation – Cariboo Snowcat Skiing, based in Tete Jaune. The company keeps a low profile, but has been attracting ski aficionados, mostly from BC and Alberta, for 13 years. The cat ski operation brings an average of 50 people customers to the Valley every week, who not only pay for cat-skiing but also spend money on accommodations, food and gas, says owner Terry Cinnamon, who runs the operation with his family.
A 'cat' is a heated snow bus – the huge tracks allow it to crawl up the steep mountainside with close to 20 people inside. Once at the top, it lets you out at the brink of a steep ski run. These are not ski hill runs. These are steep, treed, and covered in at least a foot of powder.
The ski runs vary in length from 1,000 feet to over 3,000 vertical feet with an unlimited amount of skiing offered each day. Groups typically ski between 10,000 to 15,000 vertical feet every day.
Powder skiing is difficult – especially in terrain that has up to 60% grade and is covered in trees. A tree the size of my hand took me out. So did gravity, among other things. But the fact that I'm not an experienced skier and could still feel safe and make it down the hill is a testament to the operation. We had three guides with us, including a tail guide that I got to know quite well. Unfortunately the guides couldn't do anything about my burning leg muscles that haunted me for days afterwards.
Avalanche hazard does increase at this time of year, and if you're venturing into the backcountry, having a guide is a good way to go.
The cat ski season usually runs until early April.
Photos by Laura Keil
This slideshow requires JavaScript.