One person has died after an early morning trailer fire Feb. 4.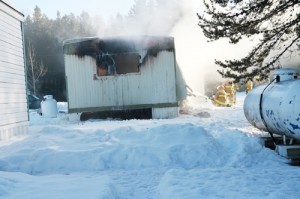 Assistant Fire Chief Dean Schneider says the fire department got the call around 7:40am on Feb. 4 for a blaze in Cranberry Park trailer park.
Schneider says the tenant managed to escape but their friend, who was staying the night, did not make it out.
"We knew there was the possibility of a body inside," Schneider said.
Valemount's volunteer fire crew was busy extinguishing the last remaining hot spots on the trailer's roof at 9:30am, while they waited for the RCMP to conduct their investigation so the body could be taken by ambulance.
Schneider says it's not clear yet what started the fire, but it appears it didn't start near the wood stove.
The temperature was a chilly -22 degrees Tuesday morning.
The Valemount RCMP could not provide details by presstime.
Our thoughts go out to the friends and family at this tragic time.