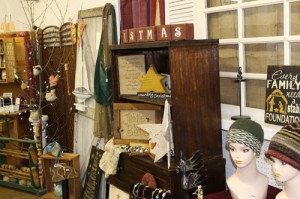 By Chris Parker
McBride has a new business on Main Street. Formerly housing the NAPA autoparts store, a convenience store, and more recently the Tea Shoppe, the location at 289 Main Street next to Mountain Chapel is now Wilde Mountain Trading Co.
Paul and Tammy Wildeman are offering teas, locally roasted coffees, baked goods, and organic produce (including flours, beans, rice, nuts, fruit and gluten-free products). There are also products from Rocky Mountain Soap Company of Canmore, Alberta and Earthlab Natural Cosmetics.
A big hit for local consumers was the products from the Swiss Bakery in Valemount, which were brought in fresh on Thursday and sold out by the end of the day.
When this reporter visited the store early on Saturday afternoon, they had installed some decorative Christmas Gift products – hanging stained glass pieces about 15" in size. But they were not hanging for long. In fact while I was in the store several pieces sold and their inventory was sold out….and Tammy was busy on the phone trying to secure more product for her hungry consumers.The combination of successes bodes well for the future and we wish them well. The store is open Tuesday to Saturday 10am-5pm.