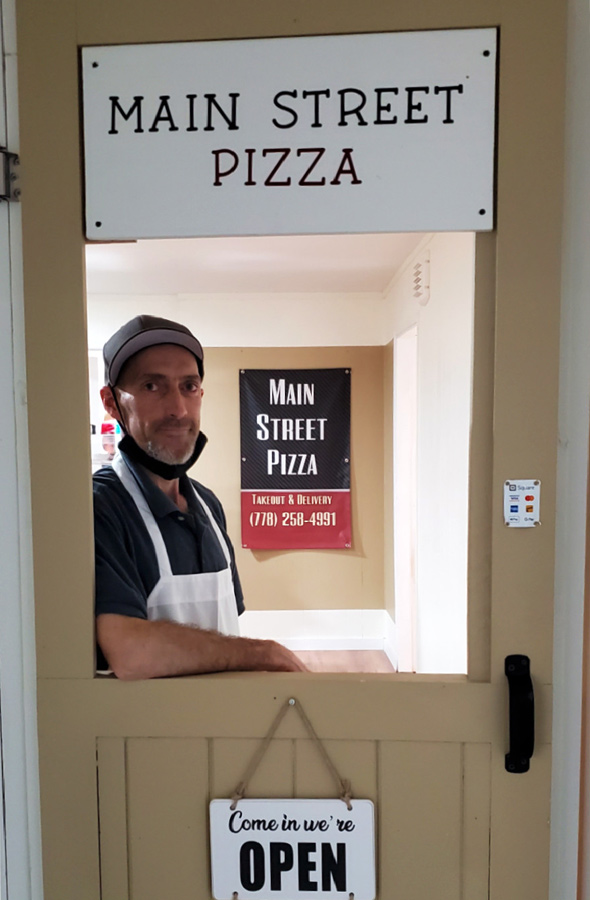 By Andrea Arnold
McBride's newest business, Main Street Pizza is owned and operated by valley newcomer Art Schryburt. The small take out/delivery pizzeria is located in the back of Mountainview Boutique, owned by Schryburt's wife, Gina Gallacher.
Schryburt has had several years of experience cooking for restaurants as well as three more years running a pizzeria in Ontario. When they arrived in McBride about two months ago, they noticed the lack of a dedicated pizzeria. The back half of Gallacher's shop became Schryburt's project.
"There was a small kitchenette," he said. "It was easy to adapt to what was needed. The biggest thing I did was add a new ventilation system."
The shop is currently open 11am-8pm Wednesday-Saturday. During their first day of business, Friday October 1, 2021, they were kept hopping.
"The town is awesome," said Schryburt. "The people are awesome. There were long wait times and no one got upset. Everyone was understanding. It was a lesson in how to better prepare for Day 2."
During the first weekend, the family worked together to get food out as fast as possible. At this stage, Schryburt says he can assemble the pizzas faster than the oven can cook them. They are working on figuring out timing. This will allow them to better inform customers of pick-up times.
Their menu currently consists of pizza, calzones, chicken tenders, garlic bread with cheese and fresh baked cookies. Thin or gluten free crust is available upon request. Schryburt is offering an evening delivery service for $5, within the village limits, after 5:00pm. If there is demand for daytime deliveries, they may consider hiring an on-call driver.
"At this stage, we are small enough that we can handle it as a family," he said. "As long as the family is willing to keep working."
In the short time since their arrival in town, they have fallen in love with the valley.
"We love McBride and are happy to be here," said Shryburt. "We are enjoying the community."