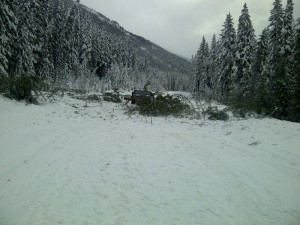 Earlier today Hwy 16 was closed due to an avalanche, on Shale Hill near Mount Robson. The slide was reported at 9:30am and was approximately two feet deep, covering roughly 40m of Hwy 16. The highway re-opened at 6pm.
Lakes District Maintenance crews were on scene assessing the scale and scope of the slide. RCMP have confirmed that no vehicles caught in the avalanche and no one was injured. A pick up truck attempted to drive through the slide but became stuck in the debris and packed snow. The avalanche brought down huge trees with it.
Ministry of Transportation advised that the risk of additional slides was very high. An avalanche technician conducted several controlled slides by helicopter to eliminate any risk for work crews. Highway crews with heavy equipment cleared the highway once it was deemed safe.
Flagging cews were located at both ends of the slide and in Jasper, Tete Jaune, McBride, and Valemount.
Highway 1 is also closed indefinitely between Revelstoke, Golden and the Alberta border due to the risk of avalanches. These two highways are the main connections between BC and Alberta. While Hwy16 was closed, the only highway connecting the provinces was Hwy 3 at Crow's Nest Pass, other than the roads north of Grande Prairie.
For any updates in road closures and conditions please visit the DriveBC website.