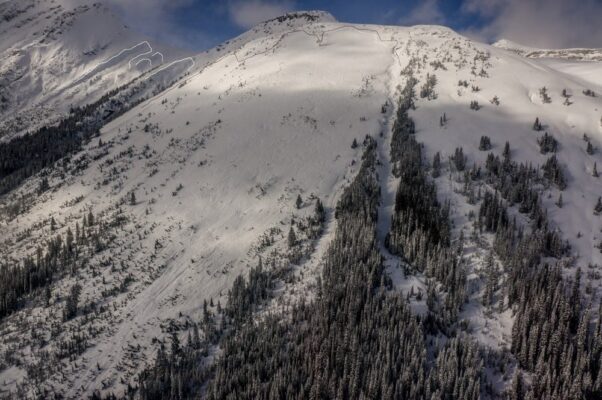 By Laura Keil
The body of a 35-year-old backcountry skier from Fernie has been recovered after an avalanche claimed his life.
The man was skiing with two friends in the Swift Creek valley, northeast of Valemount on Tuesday. The two other skiers were able to self-rescue, but they were unable to locate their friend.
He was located buried in the avalanche debris field by Robson Valley Search and Rescue the following day, after nightfall postponed their efforts.
Police say all three were experienced backcountry skiers. Cpl. Jacob Joslin of the Valemount RCMP said no local residents were involved.
The class 3.5 avalanche occurred in the Swift Creek valley just north of Valemount, at 2:55pm on February 23rd.
A report on the avalanche.ca website said the three skiers had skied down the South-East facing slope already and were ascending for another lap at an elevation of approx. 2000m. As they climbed up their earlier skin track through the trees, one person felt the snow settle and told the others. Shortly after, a much larger settlement occurred and triggered a wind-loaded section at the ridgeline above them, triggering the remaining slope. Two of the skiers had avalanche airbags and deployed them during the slide. One person came to rest head down but was able to dig themselves out, remove their backpack and call for help using their InReach device. The person travelled upslope and, using their transceiver, found another skier partially buried. After the second skier was freed, the pair continued a beacon search for the third missing group member but were unable to maintain a signal. An intermittent signal was found and chased from 70m to 20m before it disappeared, numerous times. Search and rescue arrived on scene at 5pm.
The avalanche was approx. 400 metres wide, 50-140cm deep and ran approximately 800 metres, nearly to valley bottom and was likely remotely triggered from below.
Avalanche Canada said the characteristics of this slide and other avalanches in the area that look like they occurred around the same time, suggests the January 24th persistent weak layer was the failure layer. This layer is also the suspected cause of a near-miss incident in the South Rockies, which resulted in serious injuries. The layer of concern is widespread throughout the province, but is most susceptible to human triggering in these regions, Avalanche Canada said.
Avalanche Canada issued a special public avalanche warning Thursday afternoon for recreational backcountry users in the North Rockies, Cariboos (updated!) South Rockies, the Lizard & Flathead, and Waterton Lakes National Park. The initial warning was issued at 2:30 on Thursday Feb 25th and will be in effect through the coming weekend. 
Avalanche Canada forecasters say they will reassess the situation on Monday to determine if the warning should be extended into next week.