A local business has been nominated for two awards from Small Business BC, Premier's People's Choice and Best Community Impact.
Unique Boutique opened its doors November 15th 2012, in a time when other businesses were closing and families were moving away. Owner/operator Melanie Chitty says that some would say the town was dying but she saw it differently.
"It's a time of opportunity, time to create our own destiny, and time to take advantage of this beautiful canvas we call Valemount!"
Chitty says that Unique Boutique Salon & Spa is just a reflection of some of the great things Valemount has to offer, and that our community is filled with amazing talent, beautiful scenery, and is truly a hidden secret. Unique Boutique offers a variety of wellness and beauty services, products and merchandise but Chitty says its the beautifully pure, positive, and fun atmosphere that keeps people coming back.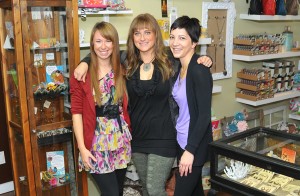 Small Business BC is seeking nominations and votes in nine diverse categories. There is one to suit every entrepreneur – whether they've been in operation for 15 years or they're still creating a business plan.
"Every year we strive to increase the impact of the SBBC Awards so we can better support and celebrate the successes of BC small business owners. This year, we're pleased to have added three new award categories and significantly increased the prizing with the support of our sponsors," says Small Business BC CEO, George Hunter. "Every entrepreneur should consider nominating their business for an award because everyone who participates in this contest will benefit from exclusive access to business education, tools and resources to help them succeed, and of course, have the chance to be celebrated."
New this year is the Premier's People's Choice Award which recognizes the business that receives the most support from their community. The winner of this award will receive formal recognition from the Premier of British Columbia.
All awards winners will receive a Premier's Prize of $1,500 cash, a one-year all-access pass to Small Business BC education and experts, as well as business mentorship opportunities.
All nominated business owners will be tasked with gaining as many votes as possible through social media, word of mouth, e-mail or any other means possible by November 30, 2013.
The top 10 highest voted nominees in each category will be announced as finalists on December 13, 2013, then go on to submit an application which judges will use to decide the top five finalists from each category, announced on January 31, 2013. The top five finalists will present a ten-minute pitch to judges to prove themselves to be one of the best in BC.
The winners of each category will be announced at the Small Business BC Awards Ceremony in February 2013, at the Pan Pacific Vancouver.
The Small Business BC Awards, previously known as the Successful You Awards, celebrate the top small businesses across British Columbia. Nominations and voting are open until November 30.
More details on the Small Business BC Awards can be found at www.sbbcawards.ca

By Korie Marshall