By Chris Parker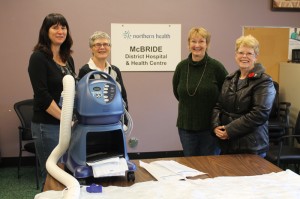 The 15 members of the Hospital Auxiliary proudly presented another equipment donation to the McBride Hospital – a warming device for hypothermic patients.
This group raises their funds through a combination of activities including The Strawberry Shortcake Tea and Sale, The Christmas Extravaganza (coming up on December 7th), raffles, The Angel Tree and the Community Christmas Card. In addition the Auxiliary help the Old Age Pensioners Organization by providing a meal for one of their regular meetings, and have also helped provide specialized equipment to our ambulances.
This year's donation of a Bair Hugger Warmer Model 775 and related equipment is aimed at assisting patients that are in need of hypothermic warming as a result of being caught in inclement weather. This equipment which at first glance looks like a small robot was presented to hospital staff by Eleanor Johnson, President, and Diane Smith, Secretary for the group.
Accepting the equipment on behalf of the hospital were Hospital Administrator Debbie Strang and the new Robson Valley Manager of Patient Care Services, Keltie Carmichael (who divides her time between McBride and Valemount).
The Auxiliary which meets monthly on the 1st Monday of the month (at 7 pm, in the Education Room) at the hospital is always ready to welcome new members.