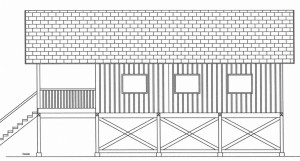 The new Clemina Creek backcountry shelter won't be online this winter snowmobiling season.
VARDA was unable to secure a builder for the project this season due to the timing of the approvals and tender requests, says Valemount and Area Recreation Development Association (VARDA) GM Curtis Pawliuk.
He says they will have to postpone the new Clemina Creek shelter construction until the summer of 2014, and a new request for tenders will be circulated in early spring.
Their agreement with the Province is that they will remove the old shelter with a Snowcat during the winter months. That removal will also be postponed, Pawliuk says. He estimates the area receives some 4,500 visits during the winter season.
Pawliuk says the shelter's main purpose is for an emergency – to store search and rescue equipment and act as a base of operations. But it is also a rest stop for sledders allowing them to build a fire and warm up. In the existing shelter, groups of sledders often have to cycle through to warm up, since they often can't fit everyone inside.
The new shelter is slated to offer a bigger more comfortable space for users, and will be located along the Clemina Creek Forest Service Road. The existing shelter is located is a sensitive wetland habitat that has seen environmental damage from visitors accessing it in the summer months on foot and ATVs.
VARDA maintains four day-use cabins or shelters in the Valemount area, which are used primarily by snowmobilers.
Pawliuk says VARDA has been putting away money for a new shelter, but they are also collecting donations from anyone interested to help with the cost.
He says any contractors potentially interested in the project are advised to perform a site visit this season before the snow flies to prepare for tender submissions next spring. For any questions or further information he says to contact the VARDA office.
By: Laura Keil