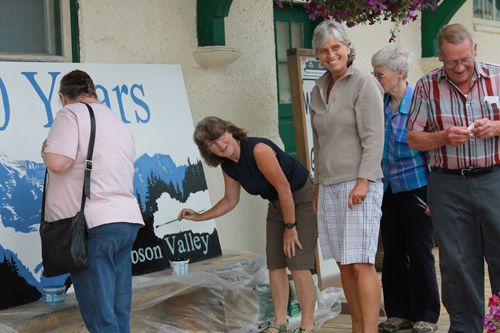 Around McBride and the Robson Valley, preparation for Fraser Heritage Festival 2013 are beginning, with last Friday's sign painting perhaps the most visible of these preparations. The entire month of September is earmarked for various activities that will include dances, horse demonstrations, a Poker Ride and finally the Happy Birthday McBride and the Robson Valley Weekend on the 27th to 29th of September. Numerous groups are working away to complete quilts, major art projects, photography exhibits, displays of trapping memorabilia as well as displays of this year's trapping results. Some local folks are practicing fiddle music, a traditional favourite at this time of year, and preparing jams, pickles, fruit and other preserves that will sustain local families over the long winter months. Back at school, the first part of the student's year will focus on art and writing projects featuring the Centennial theme.
All of these celebrations, long a favourite locally, are more special than ever this year as McBride (also known as Mile 53) and the Robson Valley celebrate their 100th Anniversary of the founding of this village and the arrival of the railway. The Robson Valley Arts and Culture Council sponsors the Fraser Heritage Festival. It has been an annual event since 2006.
Several months ago the Whistle Stop Gallery team recognized this special year, and applied for a grant to support art projects involving seniors. This New Horizons Program grant and other projects supported by Heritage Canada encourage the festival activities and allow for signs, hall rentals and the myriad of background activities and preparations required to bring this celebration of our history together.
One preparation for the festival was the sign painting that is the focus of the month long celebrations; 100 Years: McBride & Robson Valley. Local artist Sheilagh Foster prepared a 4' X 8' sign. Foster painted the outline on the sign and then invited local and visiting seniors and a few children to 'paint by numbers' or in this case 'letters' to complete the project. Artists involved in this endeavor were: Hazel Belcaen, Bob Balcaen, Wyatt and Walker Taphorn, Mary Buckholder, Jennifer Clarkson, Gerald Whitehead, and Joyce Godfrey. Each filled in their section and thus communally contributed to the sign. With visitors from Vanderhoof, Alaska, a bus tour group from Italy, and local helpers the activity created quite a spectacle on Main Street and 1st Avenue at the old train station. (Mr.Whitehead, now a resident of Rosedale Valley, Alberta, happened to be in town this past weekend to help celebrate the 70th Anniversary of Lamming Mills, another of the camps/villages that sprung up during the construction of the Grand Trunk Pacific Railway).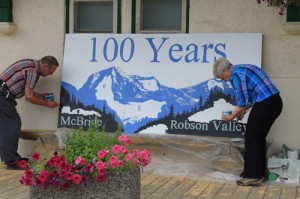 It is interesting to note the cartoon on page 1 of Marilyn Wheeler's book 'The Robson Valley Story – a Century of Dreams.' It illustrates these camps were often initially named by their mileage from a given point – Mile 27, or Mile 53 for example, which later became McBride. Wheeler refers in her book to the building and moving around of various buildings and local hostels of one sort or another, sometimes a hotel, sometimes rooms, stores which often changed their purpose over time, and so on. Only this last week the old livery stable which for many years has been a storage building at the back of Joe Rupar's, 'McBride Autobody', was torn down to make room for a parking lot for his business. 100 years on, the tents and many of the historical buildings are gone. Yet events started so long ago live on.
The completed 100th celebration sign will be displayed in the hoped-for library and museum building on Main Street in McBride. Further outlines, times and dates of various Fraser Heritage Festival activities will be covered as September approaches – so continue to watch this space.
By: Chris Parker