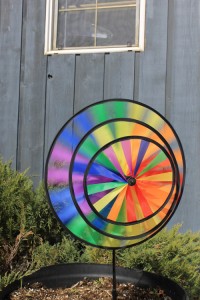 It started when some local people got together to try to fill some of the "holes" that we see in Valemount – physical holes, like the empty storefronts in the village core, but more importantly, the holes in the delivery of some great programs.
Community members saw that there were great programs available in the valley, but there wasn't always a convenient and accessible place for them to happen. The Canoe Valley Community Association got together to try to address some of these issues, but the challenge seemed daunting. Kim Thorn, coordinator for Success by 6 and the Columbia Basin Alliance for Literacy, says the hope is that Kinninnickers Family Center will be the first step.
Charlotte Abernathy and a dedicated group of people want to give families with young children a place where they can meet, share, learn, and help each other build strong families. The idea is that then builds a strong community.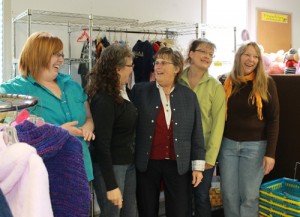 They want to give the community a space that is consistently available and open to some incredible programs, like the Play and Learn program, where kids can play together while the parents learn something new; they want to have a spot where the CBAL educational toys can be accessed at any time, and the seven Orton-Gillingham trained tutors in the area can teach language and reading using a multisensory approach; and they want a place where Aboriginal family programs can be offered, since over half the residents in Valemount have Aboriginal background, and we have the first Aboriginal Community Family Liaison, Penny Courtoreille. She is one of the first graduates from the Aboriginal Education Support Workers Program from the College of the Rockies.
The Family Center is a partnership between the CVCA, CBAL and Success by 6, and they've currently secured enough funding to run for about 9-10 months, with hopes that they'll receive enough funding from the Columbia Basin Trust's Social Grants program to run their entire pilot program for 2 years.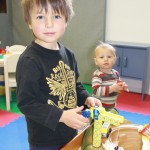 One hurtle they've just overcome is that the location was not zoned for a public assembly facility. A temporary use permit was granted at the May 14 Village Council meeting. It is currently open as a book, toy and clothing exchange for children 6 and under including infants, and is open on Tuesdays, Wednesdays and Thursdays from 10am to 4pm. They hope to expand those hours as they get the other programs going.
Kinnickinnickers is asking families to pick up a membership for $5 per year, which will be used for some of the day to day running of the centre, but more importantly, it will help them show that the services and programs are being used, and will help them when planning events, workshops and programs.
By Korie Marshall