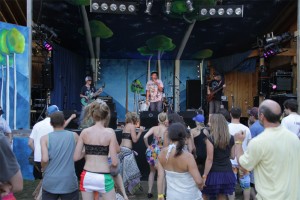 Members of the Robson Valley Music Society are seeking a location for a new Songwriters Retreat in Dunster, and hope to break ground in June.
The new space will include a recording studio and retreat space for songwriters and musicians to collaborate.
The Society just received a $50,000 grant from the BC Creative Spaces Program, to add to other funding and in-kind donations they have secured.
The Robson Valley Music Society spearheads the Robson Valley Music Festival (http://www.robsonvalleymusicfestivalbc.com/) each year in Dunster. Artistic Director Shara Gustafson says the retreat will be used by locals and international artists, and will give musicians the option to record, which is not currently available in the Robson Valley.
Gustafson said they were "surprised and thrilled" to receive this funding for the new venture. At first they considered replacing the current Jam Shack, which is part of the festival site and often used by locals, but they are not sure the new building will be constructed in time for this year's festival, August 16-18, so they are considering other locations on the festival site. Gustafson says they are also considering alternative building styles, like straw bale construction or earthship biotecture (a building philosophy using passive solar and recycled materials) which might affect layout and placement of the building.
The Society was one of 118 successful applicants to the program offered by the Ministry of Community, Sport and Cultural Development this year, and funded by the BC Government's 2010 Sports and Arts Legacy.
According to the government website, priority was given to projects that engaged under-served groups like rural and remote communities, developed community partnerships and collaborations, and had secured other sources of support. This project was one of only eight to receive the maximum grant offered.
By Korie Marshall