Marilyn Wheeler, the recent recipient of the 2013 Jeanne Clarke Memorial Local History Award for Service was celebrated at a presentation at the Prince George Library for her continuing involvement in the field of local history. Marilyn also serves the McBride community as a board member of the Whistle Stop Gallery and the Robson Valley Arts and Culture Council. In addition she has served for several decades as a member of the Robson Valley Health Association Board of Directors.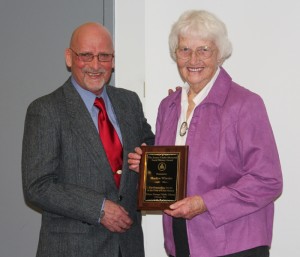 Originally from Bognor Regis on Britain's South Coast, Marilyn came to Melfort Saskatchewan in 1955 to teach school, arriving in time to experience the worst winter in 50 years. As was her continuing habit she stayed in that first school for 3 years before transitioning to Lac Vert or Green Lake area for a number of years before moving on, finally settling in the Robson Valley in the late 1960's. By that time her friend John, who had come from England at the same time and had also taught in the Meadow Lake area, joined her in Lac Vert, where they eventually married. Marilyn taught Grades 1-4, another teacher the middle Grades and John then taught the High School students. Sons John and Matthew were born during that time.
During that period the couple first noticed and became interested in the history of the 'common residents' of which John noted an almost total lack of material about the local residents. Once they arrived in McBride, they again recognized this same absence and also the lack of local publications on the history and evolution of the roads and train routes through the Robson Valley. In the early 1970's the OAPO became interested in this same area and approached John to take on the task of accumulating and writing that first history. Ultimately John declined but Marilyn undertook the task. The grant received by the organization simply paid the expenses and eventually for the first run of 1000 books – which meant that Marilyn's contribution was a fully voluntary commitment. After quickly selling out the first edition and later a second edition, Marilyn started to receive and accumulate additional information which eventually resulted in the production of her most recent book, The Robson Valley Story – A Century of Dreams. Interestingly this was produced with help from her son (Matthew) who took many additional pictures and set the book ready for print. With the advent of computers this entire production was able to be done at the local level and resulted in a high quality work of which 5000 copies were made for the first edition.
At the presentation ceremony in Prince George it was noted that it was now 100 years since McBride was named as a Village and the story behind that development was compiled in Marilyn Wheeler's manuscript.
Marilyn, in addition to all the above noted community involvements served for 13 years on the Regional District Council during that organizations formative years when systems and basic infrastructure were being set up. Major projects like the improvement of the local road to Prince George, the introduction of power to Crescent Spur and Dome Creek and other major accomplishments like the Recreation Centres in McBride and Valemount were started or completed.
Interestingly, Marilyn spoke at length during our interview of the reality that this community had evolved into a location to live and work but not to stay in during retirement. She noted that in the interest of being close to medical necessities and families that residents have moved on to Vernon, Kelowna and Penticton in the Okanagan Valley rather than create a larger 'retirement village' here. Notwithstanding, she was and has continued her long involvement with Beaverview Lodge and the McBride Hospital which is to reach its 50th Anniversary this year.
In getting together for this interview, Marilyn shared some of her own history and involvement as a local sheep farmer. She is expecting a significant addition to her flock in approximately May – just one more part of this complex and vital member of our community.
It was symbolic perhaps that several of the attendees at the recent Prince George presentation were previous award recipients and thus a crowd of 60 or so were there to celebrate Marilyn's work. An accomplished speaker, Ms. Wheeler is often with little warning asked to speak about 'history' and can do so from memory eloquently and accurately. The McBride community has a similar opportunity to congratulate and thank Marilyn for the continuation of her work at a reception which is to be held at the McBride Library beginning at 5 pm on February 27th.
Chris Parker
Columnist