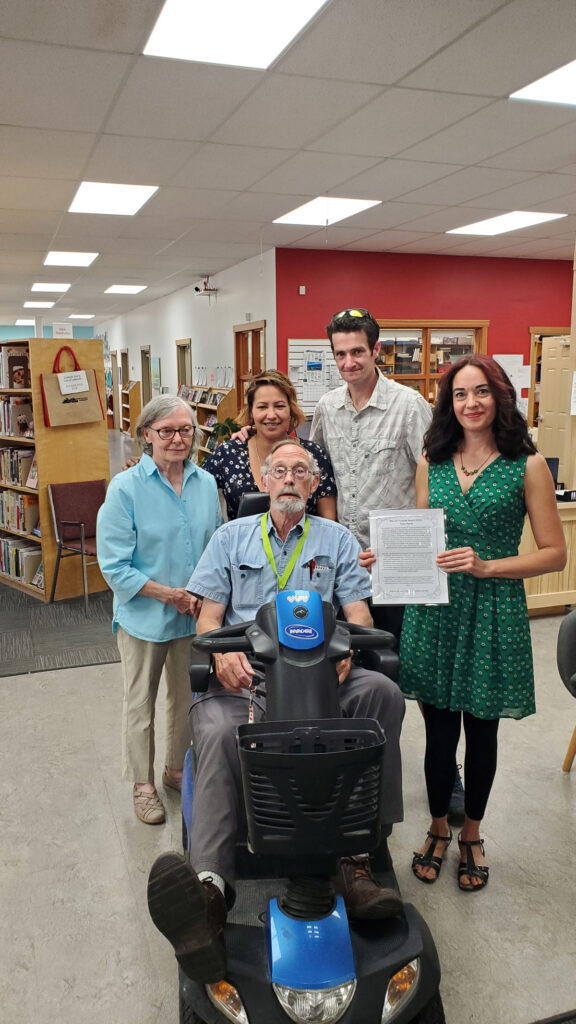 By Andrea Arnold
McBride resident Tony Rykes was recently awarded the BC Library Trustee Association Trustee Excellence award. The association describes the annual award as one that recognizes a trustee who through governance excellence has made a major contribution to their public library and community.
"There are normally only one or two such awards made each year across the province, so this is a huge deal in the library world," said McBride and District Library director Abi Ward. "This award is very much deserved, and we were thrilled he was chosen for 2023."
Ward, along with Library Board Chair Harold Edwards, decided they wanted to recognize Rykes for his dedication to the library. Ward has been applying for grants to improve the library space, and when she received money for another improvement plan, Rykes has been quick to step in to implement the project.
The nomination acknowledged Rykes' dedication, passion and championship of the McBride and District Public Library, and McBride community over the past 12 years. He has not only served as Treasurer, but also has served in a very physical capacity.
"In addition to his years of dedication in the realm of governance, revising and creating policies and strategic planning documents, Tony has gone above and beyond in terms of volunteering for the library and community. In 2018, the library moved to a much bigger, open-plan building: Tony took on the role of volunteer building manager, literally creating the incredible library space we have now, which has become the hub of the community. He constructed walls, and added windows and doors. He measured, and painted, sanded and built."
The most recent grant funded project was the addition of the community garden next to the library. Ward and Edwards wrote in their nomination that Rykes worked almost every day on this project; sourcing the wood to build the structures, painting or staining it, sawing, hammering, drilling, assembling; laying sod and planting trees. He watered the new grass and trees during a very hot summer, and trained many others as volunteer builders as he did so.
"We would like to formally recognize how much he has given of himself to the library – from each wall inside the building to the elegant gazebo outside," said Ward. "It is hard to imagine one person making a greater contribution to a community than this. We are grateful, proud, and humbled by all he has done."
"We wanted to nominate Tony for the innumerable hours he has volunteered for the library and community – most recently, working tirelessly last summer on the outdoor garden space, but also – of course – for the building work when we moved to our new location," said Ward.
Rykes responded to the award and recognition with a very short speech.
"I am honoured and humbled to receive this award," he said. "Thank you."
Following his retirement, Rykes was looking for something to fill his time. He was already on the library board and they were in the process of getting the new building open.
"I was the only one on the board with some of the technical expertise needed, so I stepped in," he said. "I have always been a user of the library, ever since I could read English."
He was very surprised when he found out that he had been chosen for this award.
"I didn't even know that such an award existed," he said. "I was even more surprised I got it."
He wanted to acknowledge that the work done on the library and the garden really was a team effort. While watching the slideshow that played during Thursday's event, he said to Glen Foster, "your face is in as many pictures as mine."
"Everyone contributed," he said. "It was not a solo effort."
During a gathering of the library staff and board on Thursday evening, Ward read out the nomination and presented Rykes with a laminated copy in lieu of his actual award which will be arriving soon.