Mount Robson Provincial Park, which was designated a UNESCO world heritage site in 1990, turned 100 on March 1st.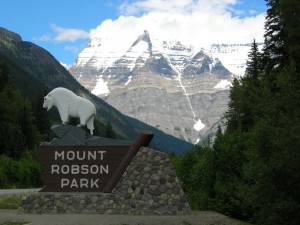 The government says events are being planned for the upcoming summer season to mark Mount Robson Provincial Park's centennial and honour its great history as one of B.C.'s best known and frequented parks.
This year another Mt. Robson Marathon will likely take place in September. Other events are yet to be announced.
Established by the BC legislature in 1913, Mount Robson Provincial Park is B.C.'s second oldest provincial park, after Strathcona Provincial Park.
Mount Robson Provincial Park offers scenic year-round activities for British Columbians to enjoy. Hikers, horseback riders, snowshoers and skiers can explore over 200 kilometres of trails. Climbing, spelunking, canoeing, boating and swimming are a few of the other activities available in the park. Those looking to stay overnight can set up camp in one of the park's campgrounds from May to October.
Spanning 224,866 hectares, Mount Robson Provincial Park is known for its various wildlife viewing opportunities. Over 182 species of birds, 42 species of mammals and four species of amphibians have been documented in the park throughout the years. Whitetail deer, moose, elk and black bear can be found in the lower elevations of the park, while mountain goat and sheep inhabit the higher elevations.
At almost 4,000 metres, Mount Robson is the highest peak in the Canadian Rockies, lending to its nickname as the Monarch of the Canadian Rockies. The park includes a portion of one of the world's largest world heritage sites. Mount Robson Provincial Park also protects the headwaters of the Fraser River. A national highway, railway, fiber-optics system and pipeline all help keep people and goods moving through the park. Parking fees were eliminated at provincial parks in 2011, making them more accessible to B.C. families.
Laura Keil