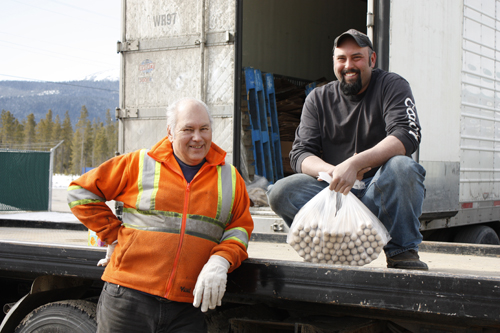 "Nice buns," someone calls out to Chris Fry as he's unloading yet another bag of frozen bun dough. He laughs and carefully lowers the bag which must weigh 20 pounds into the arms of another person. It's not his usual job to give away a 53-foot semi trail full of bread dough. But Chris, his father Del and mother Linda took it upon themselves to rescue the stock that was headed for the landfill after the truck carrying it went into the ditch near the BC-Alberta border. Fry's towing company Thunder Valley Towing responded to the call and moved all the frozen dough into another trailer. After carrying the cargo to Edmonton, they learned the buyer did not want it anymore. So the Fry family went through the steps with the insurance company to acquire the food.
"There was no question the product wasn't good, but there's all the legalities," Chris says. "It's a job in itself to get all the permissions."
"I'm just happy to give it away and not see it go to waste."
Chris says he has responded to other calls where the food being transported had to be taken directly to the landfill.
Chris and Del as well as several volunteers helped to unload bag after bag from the semi trailer in front of the Gigglin Grizzly Restaurant in McBride and behind the Co-op station in Valemount. Word travelled fast via phone and Facebook about the giveaway. Someone handed out slips of paper with baking instructions printed on them.
The Fry's collected about $1000 in donations for the Library/Museum expansion through the giveaway.
A big thank you to the Fry family for your community mindedness!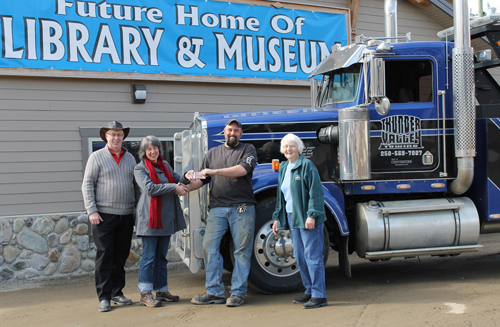 Didn't get the baking instructions?
Here they are!
Bread Sticks:
Place bread sticks approx 3" apart on lightly oiled cookie sheet (3 fit nicely). Place cookie sheet in a warm place such as in oven with oven light on until they are thawed and rise – approx. 3 hours. Bake at 350 deg. for 18 mins.
Buns (from bread sticks):
When thawed, but before they rise, cut the sticks into pieces approx 1.5 inches, then allow them to rise. Bake as above.
This slideshow requires JavaScript.