By Andrea Arnold
---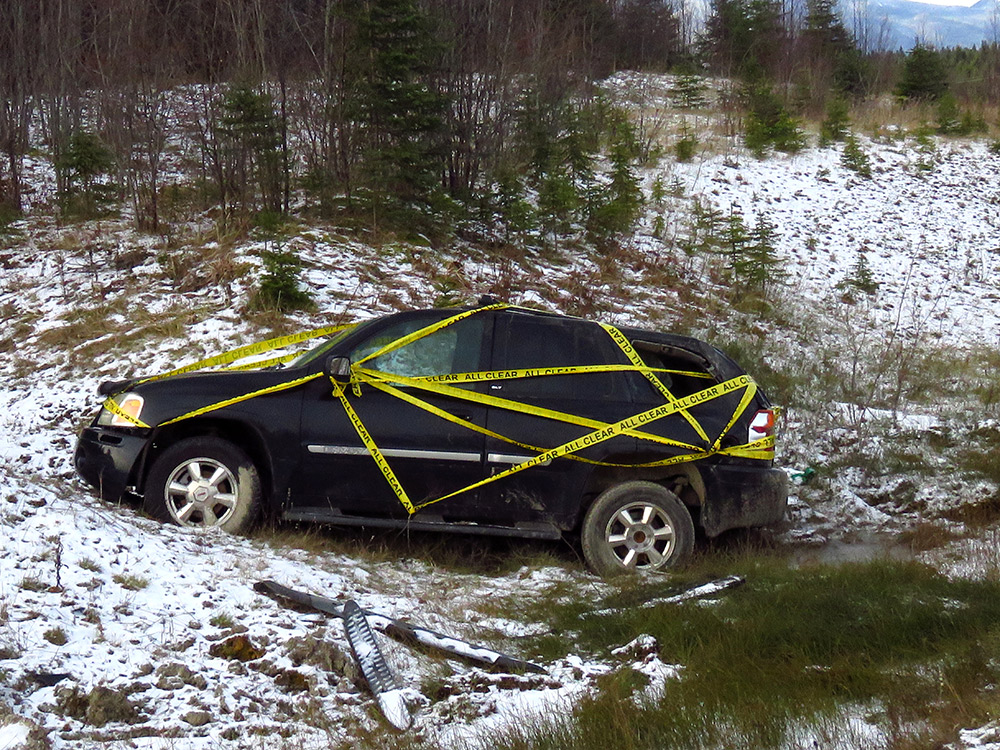 Local emergency responders are hoping to reduce false-alarm call-outs by educating the public about the meaning of yellow ribbons.
When you see a car in the ditch or on the side of the road, the natural reaction is concern, and it often leads to a 9-1-1 call. But emergency responders request that before making the call, you check to see if the vehicle is wrapped in yellow ribbon.
McBride District Fire Chief Dave Hruby had yellow ribbon with "ALL CLEAR" printed on it specially made for the purpose of marking vehicles once they have been emptied and are awaiting towing.
"I have provided this ribbon to other emergency response services in hopes that they use it, even in excess, and that people will identify this, and stop creating unnecessary call-outs," said Chief Hruby.
Getting called out and arriving to find the vehicle already checked and cleared, not just once or twice, but seven times becomes frustrating, local personnel say.
RCMP Constable Colby Grimmer said the sixth call to one particular location came Christmas morning. The vehicle and surrounding trees, clearly wrapped in the yellow "ALL CLEAR" tape, had been spotted by someone driving by. The motorist didn't stop or slow down for a closer look, and contacted 911, resulting in all emergency services including Fire Rescue, EHS and RCMP responding mid-Christmas morning.
Not responding is not an option. Emergency service personnel on call have to respond when a call comes in — it doesn't matter what time of day or night, what the weather is, or what special occasion might be happening at home. Robson Valley fire and rescue personnel are mostly volunteers with day jobs and dud calls can take a toll. There can be more serious consequences as well.
Call-outs involving vehicles have fluctuated between 75-100 annually in the last four years according to Constable Grimmer (The number of false alarm call-outs was not readily available by presstime).
Responders have no way of knowing they aren't on their way to a situation where help is needed until they arrive. The McBride District Fire Department has one rescue vehicle, BC Ambulance Service has two cars, and at this time, McBride has four RCMP officers. Resources are limited, so calls to already cleared sites could potentially create a more serious situation elsewhere if another emergency were to occur at the same time, Hruby said. For example, a call comes in that there is a vehicle upside down in the ditch by West Twin. The rescue truck, one ambulance and an RCMP officer respond. Midway into the call, there is an incident by
Dunster that requires the rescue truck, multiple ambulances and RCMP. Local crews say McBride and Valemount have a good working relationship and Valemount will respond when needed, but this means help takesw longer to arrive (approximately 60km for Valemount to travel, vs 35km from McBride). This scenario then leaves the community of Valemount and the roads south and east also short of resources. In another situation, the fire department could be needed, but not all the members are available due to one of these repeat calls.
Once a vehicle has been left behind following an accident, it is the owner's responsibility to have it removed from the site. The ideal is that it is removed as soon as possible but circumstances such as weather, health, finances, or location may hamper towing it, Grimmer said.
This is where the yellow "ALL CLEAR" ribbon comes into play. Its purpose is to communicate there are no safety concerns for the previous occupants.
Both Constable Grimmer and Fire Chief Hruby understand most people don't want to stop and investigate an accident scene closely.
"We are just asking people to slow down, and check for the yellow ribbon," said Hruby. "Even stop for a couple seconds when it is safe to do so, and take a second look before calling it in. Is there yellow ribbon wrapped around any part of the vehicle? If there is, the scene has been cleared by emergency services and there is no need to call it in. If there isn't, please, call 911." Grimmer said all the emergency services appreciate the public's continued support and cooperation.