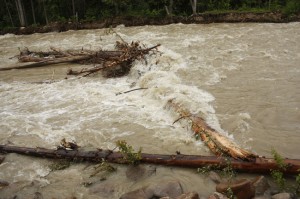 Due to increased snow melt from high temperatures, an evacuation order was put into place Monday July 9th for four residences adjacent Swift Creek, north and west of the Main St. bridge, in Valemount.
This is the second evacuation order for those four residences in two weeks. The order was rescinded as the bank was stabilized and water levels came down. But recent hot weather has compromised some of those banks which have not yet been restored.
"Three days of very high heat has mobilized a lot of water at once," said Mayor Andru McCracken. "With some luck and quick action we hope to get through this without personal injury or loss of property, but this is definitely an emergency."
Remediation work on the bank has addressed the areas of greatest concern since the last high water event of June 23. Much of the creek side has been shored up with big jagged rock that should last through a major event; some areas, however, are still relatively weak after the initial flood, according to the Village of Valemount. These are the areas being addressed now.
Residents are asked to stay away from Swift Creek as the water is fast and high. Many paths have been completely undermined and are ready to collapse into the creek with any disturbance.
Further, remediation work continues, and big machinery is at work. Please stay away from the area until the site is cleared.