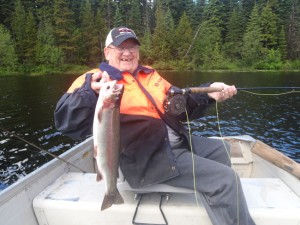 Wayne Quam, a McBride fisherman, says it may have been a lucky fly from his father that helped him catch a 4.5 pound Rainbow Trout in LaSalle Lake recently.
A friend who used to live in McBride was visiting Quam from Alberta and they decided to go fishing.
"Right away we caught a couple of little ones. More or less let them go again."
Just before dark they were heading back to the dock, when all of a sudden he had a hit.
"There's no motors on the lake, so we just had oars. So I had a hit, so I told Chris 'Hit it again.'"
"He gave it one good chop with the oars and the fish grabbed on. It took me about five minutes to get him in, but I got him in the side of the boat and Chris went to net him and as soon as he got him in the net, the leader snapped, but thank God he was in the net. So I caught him. Beautiful fish.
Quam has fished in the valley for years, but never dreamed he'd catch a four-pound Rainbow Trout in LaSalle Lake, which is accessed near the Crescent Spur turn-off.
This fish was definitely a keeper.
"It's going in the smoker."
Quam's father Ole Quam gave him the fly he used years ago. It's a black leech fly with a little bit of green in it.
"My father gave me that fly and he said 'If you're going out in the morning,' he said, 'Try that fly,' so I tried that fly and I ended up tying a young fellow in Purden Lake for third place in the fishing derby."
Quam says he will take part in the Valemount Fishing Derby in September, the first time he's done so in 6-7 years.