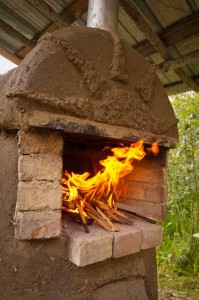 It's made of clay, heats to 700 degress Celsius and sits in your backyard.
If you guessed "Awesome summer cob-e-cue," you're right – if you're lucky enough to have a willing worker on organic farms (wwoofer) to build it for you.
Stuart Hart from London, England came to visit his former wwoofing host Pete Amyoony in Dunster last month, and took the initiative to build a cobb oven.
Hart has been studying and teaching natural building in Oregon for two years. He said Oregon attracted him because of a book he read by an author located there.
Cobb is dense mud which keeps heat very well – 4-5 hours of high heat.
It's a "thermal battery" Hart says, as the cobb absorbs heat from the fire built inside. When the cobb gets hot, the fire is removed and you're left with a radiant mud oven.
Hart says he and a few other wwooofers collected all their building supplies from within 5 minutes of Amyoony's property – clay from near the Fraser River, local straw, empty glass bottles, newspaper, and bricks.
"Everything in the stove except fire brick is natural,' Hart says. "It's a really natural and non-toxic way of cooking."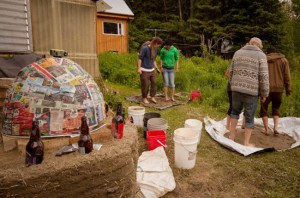 He says taste is another perk – you get a subtle smoky, woody flavour to the food, great for meats and even pizza.
The structure they built took two weeks to build – it needs a heavy foundation which is time-consuming to construct. The banking area is about 21 inches in diameter and 16 inches tall,
One of its best attributes is its high heat . You first have to wait for the cob to heat up by building a fire inside it – likely for a few hours. Once it's hot, it takes approximately three minutes to cook a pizza. The heat will last most of a day, 3-6 hours of intense heat, then taper off slowly.
According to dirtcraft.ca, a 3-hour firing will generate enough heat to cook a round of pizzas (say 2, 4, even 6), a round of bread (say 6 loaves), a couple pies and maybe some muffins. At lower heats, it can be used to dehydrate fruits and vegetables, leavening bread, starting yogurt, or drying your next round of firewood.
Hart will be back next spring and hopes to run a workshop. Visit his blog here:
www.jeffreythenaturalbuilder.com