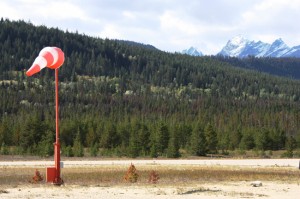 McBride resident Kelly Mortensen wants to improve the work-life balance of valley residents working in remote areas – as well as make it easier for Alberta snowmobilers to access the backcountry on their days off.
Mortensen, already a commercial pilot, is working on starting a charter company based out of the Robson Valley to move people to and from the oil fields, mines and remote work locations in BC and Alberta.
By his count, there are 27 mines in the area between Quesnel and the Yukon border that are in the advanced stages of exploration or environmental assessment. These, along with the Alberta's projects, can provide employment to people living here, if they have convenient cost effective transportation, he says. A potential spinoff could be more families choosing to move to the Valley due to lower housing prices, natural beauty and good quality of life.
His company – tentatively named DirectAirline – would use a twin engine aircraft capable of shuttling five passengers at a time. He figures he can charge somewhere in the range of $450-$600 for a two-hour direct flight McBride-Fort McMurray – roughly the same as a WestJet ticket from Prince George.
"The difference is the convenience. You're not losing a day on either end of your shift. If you get off work at 4:30 and the plane was sitting there waiting for you, you'd be home by 6:30," Mortensen says.
Comparatively, it takes about 10 hours in a vehicle to drive to Ft. Mac from the Robson Valley. The flight at 432 km/h would take only two hours or four hours round trip.
Customers would split the cost of the flight based on the destination and if the plane isn't filled, the other customers would share the cost of the empty seat. He says the $450-$600 cost would be much lower if he had return passengers on the back haul.
If a person were to fly out of Prince George, they have at least a four hour drive, plus the airfare, plus fuel, parking and food. Not all the flights are direct, either.
He said he would fly from Valemount or from McBride – the current airports can handle a twin-engine.
He is also applying for contracts to deliver crews in remote locations for big oil companies – this could help him pay to get to Alberta at least. Tourism could also provide some business, he believes. The plane is an advantage since it costs a lot more to maintain a helicopter.
He says the work will likely take 30-50 days to apply for an operating certificate from Transport Canada and to purchase a new plane.
He plans for the company to be a one man operation and he would be "chief, cook and bottle washer."
He hopes to be operational by September.
"There's not a lot of jobs around here so you've got to be creative."