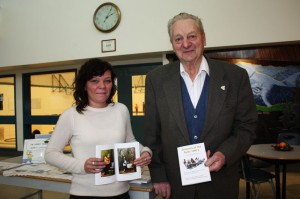 Margaret McKirdy's intriguing sculptures of valley pioneers is the subject of a new book.
McKirdy began making sculptures several decades ago using clay from Tete-Jaune, molding recognizable people she knew from her everyday life – everyone from loggers, to travelers to call girls.
Book publisher Henry Unger said he was inspired by McKirdy's sculptures when he first came to the valley 20 years ago.
"She's a great artist," he said. "I want to have them displayed to the public."
Unger recently built The Trading Post, that rents out part of the building to the Crafters Guild. There he built a case to house some of the hundreds of clay creatures McKirdy has molded over the years.
Many local people have one of her sculptures in their homes. There is no definitive count of how many sculptures she has made over the course of her lifetime.
McKirdy, who has been ill for some time, has lived in Valemount most of her life with her husband Angus who recently passed away.
The McKirdys are one of the founding families of the area, going back to the last turn of the century when Fulton McKirdy came to the area.
Book designer Charlene Montpetit says the book not only acknowledges a great local artist, but it's also a way to bring more interest to the town.
"It's to show some of the history of the first settlers of Valemount."
"I think that Margaret's artwork is very unique and it needed be seen."
The book will be available to buy at the Crafter's Guild.