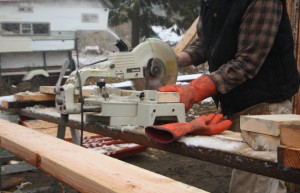 The Dunster and Valemount Community Forests may be close to getting a new cutting permit that would allow them to better supply local manufacturers and fill niche markets.
The provincial government has launched a pilot project that would grant a handful of BC community forests a one-cutting permit, in other words, a cutting permit that would allow them to target any area within the community forest or woodlot license without going through a lengthy approval process each time.
"It would be one blanket approval over the whole area you've been assigned," says Shane Bressette, who manages the community forest in Valemount.
He says the idea is cut down on the workload for both the government and licensee.
Bressette says in the last couple years – area-based forest licenses, such as community forest licenses and woodlot licenses, have become more common. Area-based means you are given a designated area in which to operate.
This is different than volume-based licenses, like the ones held by Carrier Lumber. Instead of a set volume, small woodlots and community forests have a set area.
"It's more like a farming approach," Bressette says.
But area-based licenses are still constrained by a lengthy cutting approval process that can take up to three months. This means short-term markets may go to waste, if the community forest can't get the wood to market quickly enough.
"If a small manufacturer in the valley has an order for a couple loads of product and he needs to get that wood from the community forest in a short time frame – that's the kind of thing we could facilitate," Bressette says.
As it stands now, once the community forest lays out a cut block area to harvest, it goes through a series of consultations, referrals and environmental assessments. Bressette says that's the process of getting a cutting permit approved for that cut block and a cutting permit usually entails 1-6 cut blocks.
Once they receive the one-cutting permit you'd still set up cut blocks, Bressette says, but you wouldn't spend as much time in the approval process. With a larger area pre-approved, however, consultation with First Nations is still important and cuts are still based on sustainability.
"There has to be some mechanism to make sure the First Nations are getting full consultation."
The exact protocol has not yet been worked out, however, he says. Legally all licensees have a responsibility to protect archaeological values and cultural heritage resources.
Cuts would not just beetle-damaged pine, but all species available in the community forest area.
Archie MacLean, chair of the Dunster Community Forest Society says they applied for the one-cutting permit last spring and expect to receive it very soon.
The Dunster Community Forest was the first non-incorporated community to receive a community forest. But at just two years old, it has still not brought any wood to market.
Dunster community forest has a 7000 ha harvesting land base, 20,000 ha total area up to the ridge. Their annual allowable cut is currently 15,000 m3.
Valemount's allowable annual cut is 190,000m3/year.
MacLean says even with the one-cutting permit, the requirement is still there to do consultations, road maps and plans accordance in with their stewardship plan.
The one-cutting permit can only be approved for a four-year period.
There are five overlapping First Nation claims on the Dunster Community Forest, he says.
MacLean says they don't have a market for their wood yet and will be cutting mostly beetle-damaged pine at first.
One-cutting permits have been used for local woodlots for the past two years. All the woodlots in this area already have one-cut permit approved. Woodlots are smaller tenures often linked to private land, ie) rancher has woodlot next to ranch.
The Valemount community forest hopes to have their application in before the New Year, hopefully approved by next summer. The timeline for the pilot project is six months to a year. The communities of Powell River, Esketemc First Nation and Wells Gray are also taking part in the pilot project.
A spokesperson from the Ministry of Forests said the project was created in order to give the community forest an opportunity to harvest immediately within their licence area in response to market conditions, pests, diseases and abiotic events. This way, they can be more market competitive, may be able to keep forest insects and disease at a reduced level and can practice good forest management.
The Prince George District will be monitoring this project. Tabular rates are used for stumpage. These are fixed rates, determined quarterly by the Revenue Branch.