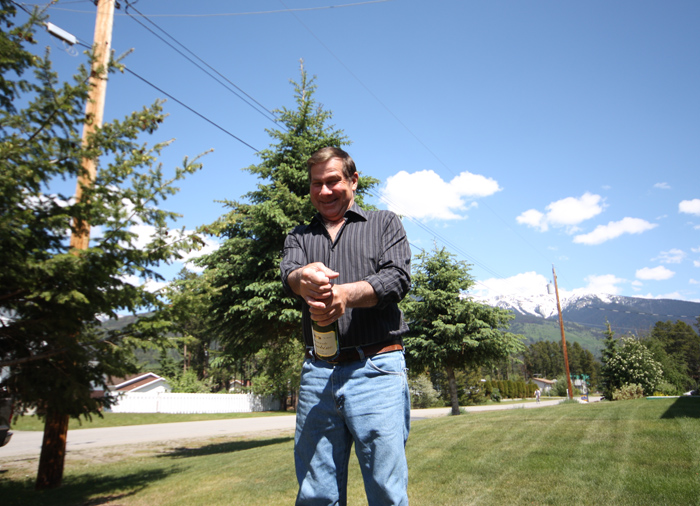 By Laura Keil
Gerald Wilkie has been searching for gold, but this week the gold found him.
1.4 million tax-free dollars. That's how much Wilkie will get as the grand prize winner of Variety The Children's Charity Lottery.
But some things he's already learned haven't changed, after a bit too much celebration.
"They say millionaires don't get hangovers, but they lied."
Last Saturday morning, he said he was preparing to pour cement for the back steps of his small bungalow in Valemount when his neighbour phoned him.
"You're the grand prize winner," his friend told him.
'I'll believe you when I see it," he said.
Wilkie, a heavy equipment driver who moved to Valemount from Clearwater over a decade ago, has modest plans for the money. He says he will give his daughter and son-in-law his old trailer and truck, and $100,000 to each of his three daughters and similar generous quantities to his sisters, brother and other relatives.
He has been buying tickets to the children's charity for more than 10 years. He says he buys the tickets each year because the money goes to a good cause.
"I don't buy 649s or anything like that. I'd rather give it to the kids."
Wilkie and his dog Jack are getting ready to head to Barkerville where he has a gold claim. The winning, it seems is just a small interruption from his plans to pan gold.
He spends every summer at his gold claim. Last year, he put a back hoe and shaker plant at his gold mine claim which is on Antler Creek near Barkerville. Some of the fancy panning equipment is in the back room of his house still, just out of the package.
As for spending money on himself, he says he plans to replace his truck and trailer, pay off his house and maybe spend the winters in Arizona.
He says he hopes that him winning will change other people's minds about buying non-charitable lottery tickets so that they put their money towards a charity instead.
And as for his current job?
"I'll get back to work. When I feel like it," he says and laughs.