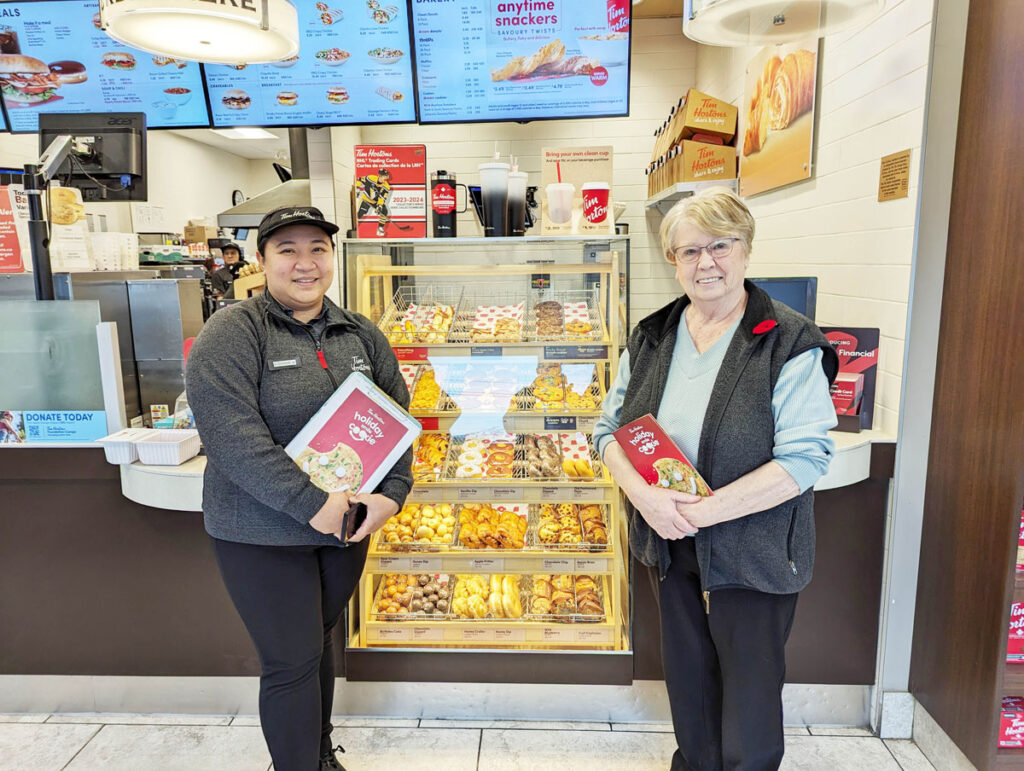 By Spencer Hall, Local Journalism Initiative Reporter, RMG
Valemount Tim Hortons has chosen the Creekside Outreach Society as the local charity it will support as part of its first-ever holiday Smile Cookie campaign.
Manager Diane Marquez said this is the first smile cookie campaign that's been held in the winter. The restaurant typically holds the campaign in the summer and, according to Marquez, they usually sell about 1000 cookies each year in Valemount.
The campaign launches on November 13th and will run until the 19th. Cookies will be $1.50 plus tax, with about 75 cents from each cookie sold going to Tim Hortons Foundation Camps and 35 cents going to Creekside Outreach Society.
Christine Torgerson, with Creekside Outreach Society, said part of the funds will go toward the society's annual Adopt a Family program, which provides low-income families with a full Christmas dinner and gifts for each member of the family.
"We've been so blessed, because we've had businesses that have approached us, put together packages themselves, and brought them over. Others have given us cash and said, can you put this together? So that's what we do. And part of this [funding] will go to that," Torgerson said.
She said the rest of the funds will go toward the process of launching the Creekside Opportunity Village — a supportive housing project aimed at providing accommodations, meals, and professional training opportunities for low-income individuals and those experiencing homelessness who may struggle with addiction.
"Our village idea is to have things for people to do to be trained up in that village," Torgerson said, adding that she'd like to have community professionals come and share their knowledge with residents of the proposed village.
The proposed facility would also provide meals in a communal area, which Torgerson said would provide extra support and a feeling of community to its residents.
"It acts as a wellness check if somebody doesn't come by for a meal for two or three meals. What we have seen is that many people in these situations get more and more antisocial. This would help them to still be part of the community," Torgerson said.