By Laura Keil
My memories of the Mt. Trudeau hike are mainly of bugs and wet feet – slapping 10 mosquitoes on my arm at once, and soaking my boots in the boggy subalpine meadows. This year, however, thanks to the suggestion of a friend, we hiked this again and found not only no bugs, but a reminder of the splendour that exists in that particular little valley. It is a wild and beautiful place.
The Mt. Trudeau hike is not currently maintained, so you'll encounter overgrown trees and berry bushes, possibly some deadfall, and the flagged trail often disappears once you get into the meadows. Hiking unmaintained trails will give you a taste for the work done by the hardworking volunteers in organizations such as YORA (the Yellowhead Outdoor Recreation Association). Despite its unmaintained status, it is in very good shape.
It's a long drive on the access road to get there, and a steep climb in parts, but the hike up to the first part of the meadow is only an hour and the scenery is spectacular. Good water-resistant hiking boots are recommended for the wet and boggy meadows. Watch out: Grizzly bears are often forage in the meadow during spring and summer. Be sure to make lots of noise so you don't surprise them and they have time to leave to avoid an encounter. At one point you'll need to cross a large log that's over a stream.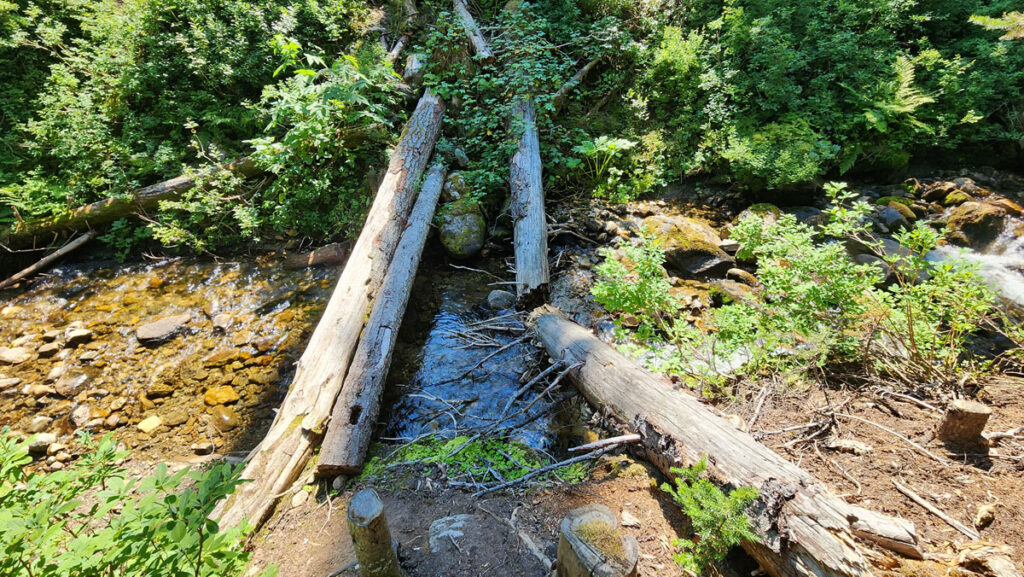 Cell service? Not comprehensive, but in spots.
Gear to bring: Bring 2L water/pp, hiking poles, and bear spray is a MUST.
How to access/where to park: From the Visitor Info Centre, head south on Hwy 5 in a vehicle with reasonably high clearance. Approx. 3.5 km south, take a right at the intersection and take the road that leads past the Crystal Ridge parking lot. For exact driving instructions, see the map here: tinyurl.com/trudeautrail. The trailhead is well parked, though someone has cut out the "Mt. Trudeau" portion of the sign, so it just says "Trail."
Best Parts: The payoff for this hike is big – a gorgeous meadow with a creek, lake and waterfall. Plus, if you climb up the waterfall you'll get a view of Mt. Robson and the bottom of the valley. From the meadow you will have a view of the waterfall, the Summit and behind you Mount Robson.Worst Parts: There are some very steep sections that are hard to grip unless you're wearing good hiking shoes. When the trail is wet the steeper sections can be muddy and slippery. The sub-alpine meadow has boggy sections all summer. Hiking poles are recommended.