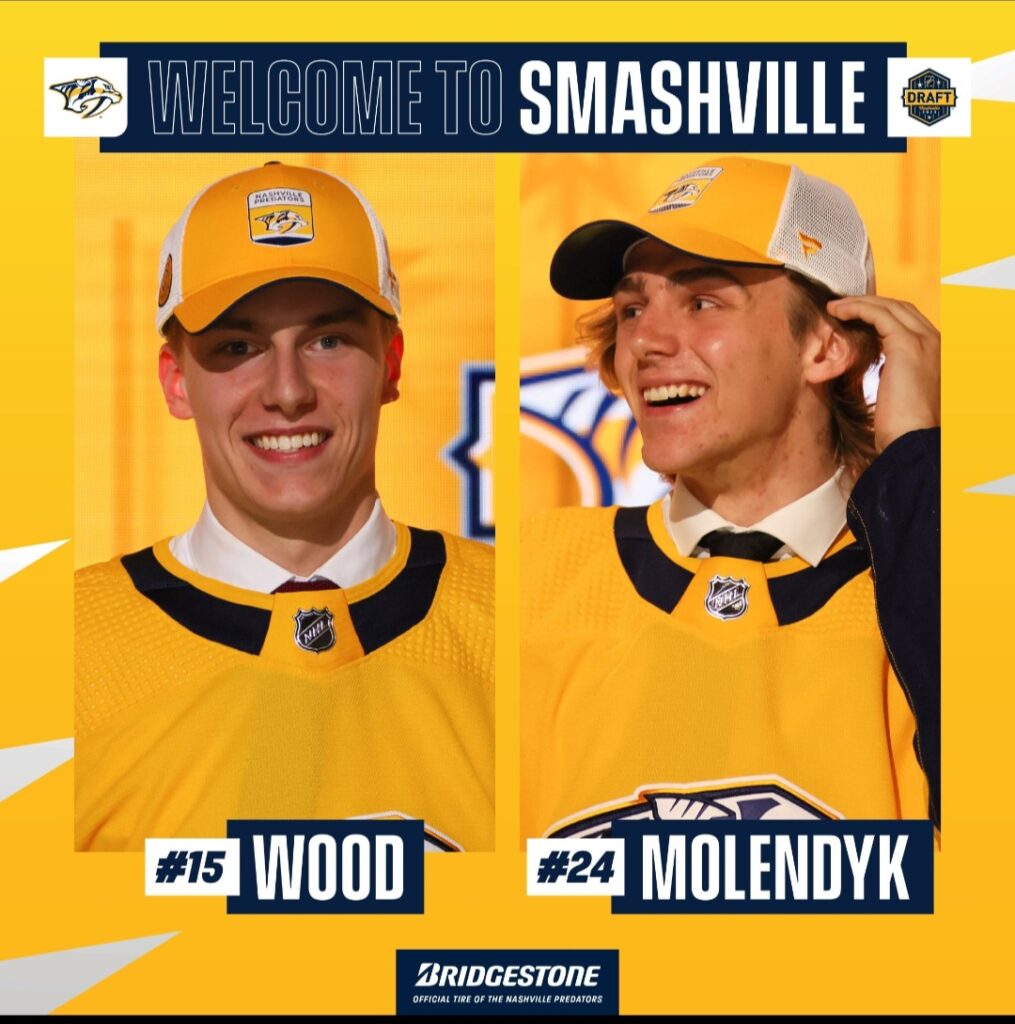 By Laura Keil & Andrea Arnold
Tanner Molendyk's parents have always known their son would go far in hockey.
On June 28th, the defenceman born and raised in McBride, BC, was drafted into the NHL by the Nashville Predators. The draft was held in Nashville, Tennessee and in an interview on WHL TV, sporting his new yellow Nashville jersey, Molendyk was asked what it was like when his name was called to a roar of cheering by the home Tennessee crowd.
"I'm not going to lie, I don't remember even going down the stairs. I think I was shaking," he said.
Molendyk's mom Nicole Desormeau said he was taking full strides on the ice at just two years old.
"I have always felt in my bones that Tanner would make it," she said. "I know that sounds crazy but it is what it is. I have kept his skates since he was little thinking one day maybe he would want them on his wall. Whenever someone would say 'If Tanner makes it,' whether they were talking about a Team Canada event or the NHL, I would always say if you're part of this family we say 'When Tanner makes it.' There was no room to think otherwise. He had a goal and a dream and if we didn't believe in it as much as he did then what kind of parents were we?" 
When Molendyk was 14 years old he left the security of home to play at Yale hockey academy.
"This was not an easy decision by all means and the comments about what kind of mom lets their 14-year-old leave home hit hard," said Nicole. "But this was probably the best decision Jamie and I have ever made."
"Nicole and I both knew he needed to leave to have more opportunities to get better since he was little," said Molendyk's dad Jaime. He had believed Molendyk would get to the NHL from the beginning because of how much he loved it and was always trying to get better.
"When the opportunity came to play for Yale Hockey Academy that was well known for their program, it was a no brainer."
Some 22 people, including many from his hometown of McBride, travelled to Nashville for the announcement, including his parents, his sister Paige and his grandma Kathy Molendyk.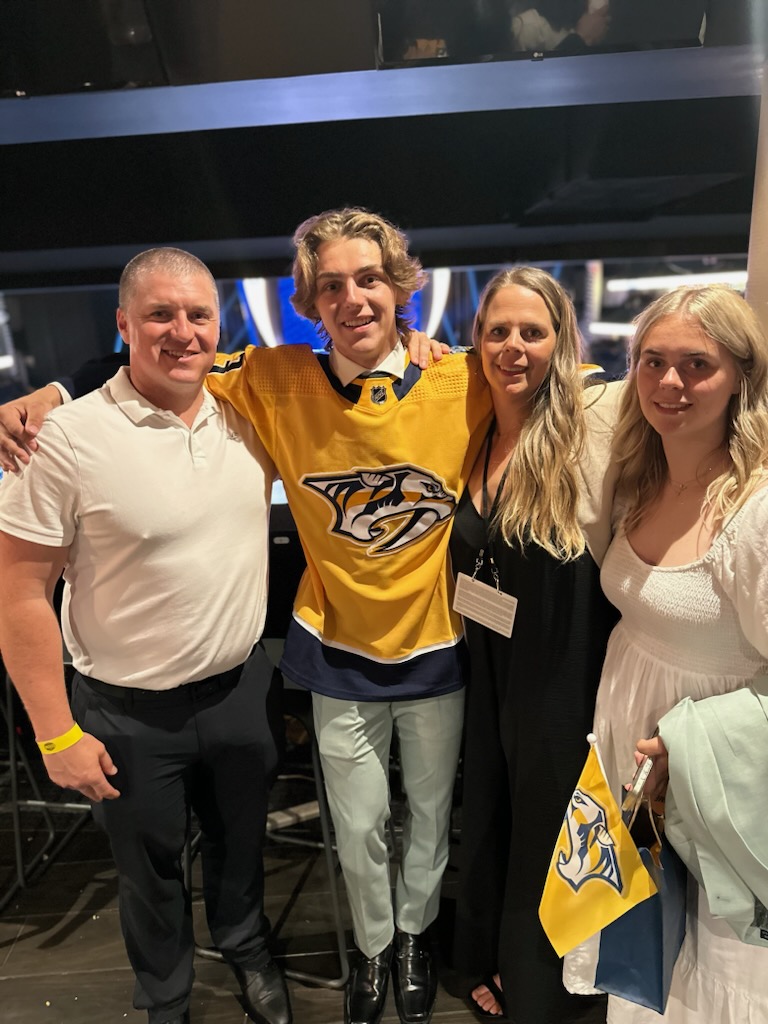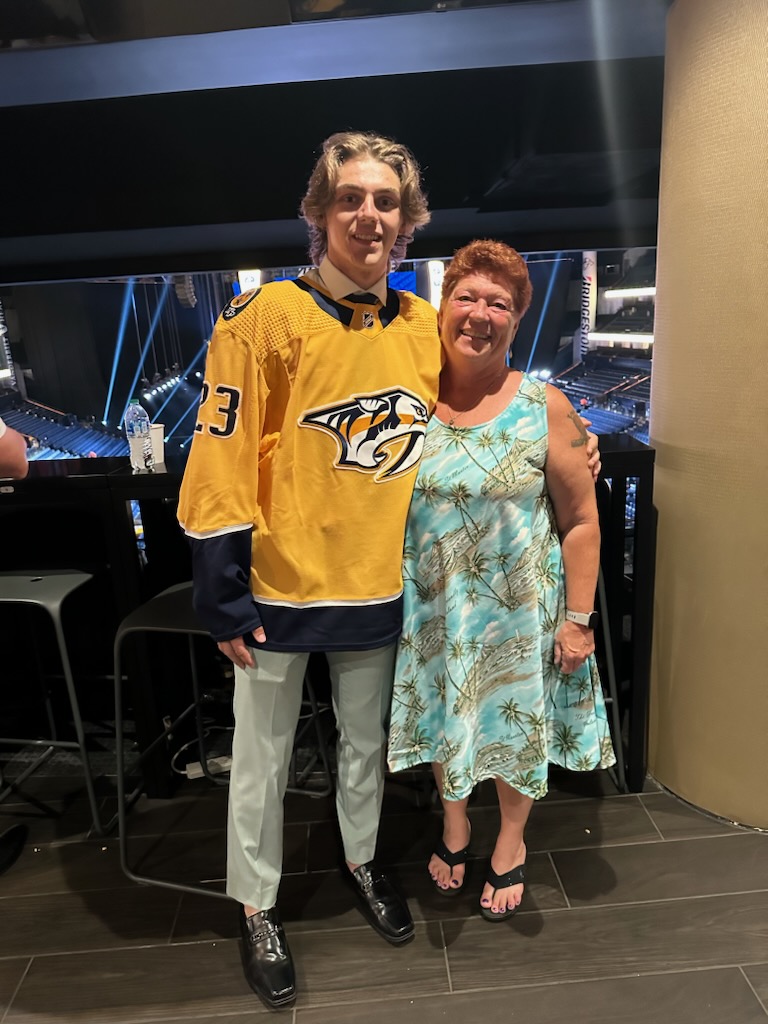 Both parents do not think that words can adequately describe how proud they are of their son.
"Are we proud of him for getting drafted into the NHL? One hundred per cent," said Nicole. "The one thing that I am most proud of is how he has stayed true to who he is and pushed through every hard moment to make it to that point. I don't think many people understand the sacrifices elite athletes have to make, what their schedule is like or the toll of playing that many games in one season takes on not only their body but their mind. That kid smiles through it all and takes what he needs to learn from the hard moments to be a better person and hockey player for the next game, constantly wanting to improve. So when he got drafted that is what I was thinking of and the joy of seeing him get rewarded for that was the best feeling a parent could ask for." Jamie couldn't find the words to express how proud he is of Molendyk's dedication and his fighting through all the ups and downs to be able to accomplish a goal he's had since he was a kid.
As Molendyk takes steps into "the show" and finds himself in the company of NHL big names, keeping grounded might become more difficult. Nicole is sure that Molendyk's aunts will play a big part in keeping his feet on level ground.
"Tanner has always known that just because you do great things it doesn't make you better than anyone else, it makes you blessed," she said. "He will have no problem knowing where he came from and to not expect anything he hasn't worked for."
Dad Jamie says that he will always be there to help him see the positives in everything he is doing.
"It was so exciting," Kathy told the Goat following the announcement. "His dream came true."
She said his jersey number has been #24 for many years and he was 24th pick in the first round.
"(The announcer) said 'Tanner' and paused on the last name and we started freaking out," Kathy said. "I'm thinking to myself is there any other Tanner?"
After collecting his jersey, he was whisked away for interviews and to greet fans on an outdoor stage.
"They'd taken him outside and he had a cowboy hat and was signing autographs and high fiving people," Kathy said. "Everyone was just ecstatic."
The following day he was slated to meet the rest of the team. The first development camp was July 1-6. Following development camp, Molendyk was offered and signed a three-year entry level contract with the team. Kathy says it's rare that a new recruit begins to play games with the NHL team right away and he'll likely spend the next year in development camps and possibly continuing playing for the Saskatoon Blades, his current team.
While playing for the Blades during the 2022-23 WHL season, the offensively strong defenseman scored nine goals and made 28 assists. In a post on the Blades website, associate coach Dan DaSilva had high praise for the 18-year-old defender, saying Molendyk is a well-rounded player, but it's his skating ability that sets him apart.
"I truly think it's second-to-none in our league," said DaSilva, "Scouts ask me questions or whatever and I truly think that if there was an NHL game tomorrow, you could pull Tanner into that game just on his skating ability alone. He would look like he fits in right away just by the way he moves."
Many McBride and Valemount residents celebrated alongside Molendyk when his name was called on June 28th.
Shortly after the draft, Tanner said he's looking forward to going to development camp and seeing what this place is all about.
"Seeing the (crowd) screaming and singing every night, it seems like a lot of fun here."
In another interview, Molendyk said Nashville reminded him of McBride, his hometown of 600 people.
"It's like a big McBride."