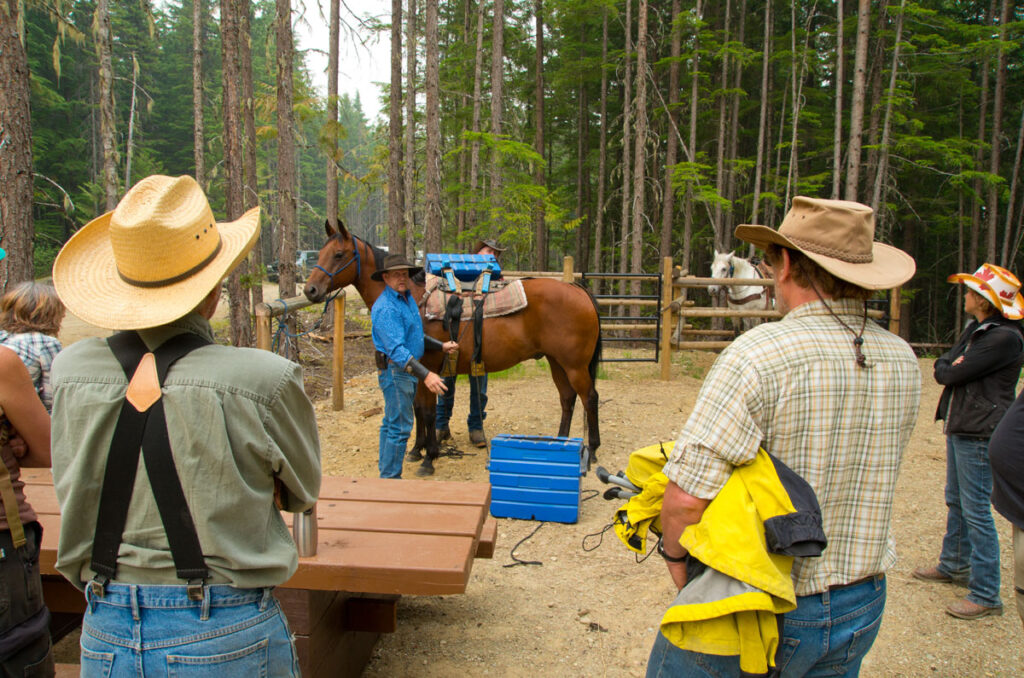 By Laura Keil
A new rec site will be a convenient place for people with horses to stop and water their animals or camp overnight and ride or hike a huge network of trails right from the campground.
McIntosh Equestrian Recreation Site and the Belle Mountain Equine Trail Network are first-come first-serve, and there's currently no fee.
It all started when some locals realized that people travelling with horses had no convenient place to stop between Prince George and East of Jasper, says Eileen MacDonald of the Robson Valley chapter of the Back Country Horsemen of BC.
"When we originally looked at it, we were just looking for an emergency stop place. And then we got bigger ideas."
Camping with horses is becoming very popular, especially among Canadian snowbirds in the U.S. She says people bring their horses with them as they travel around, and it's a great way to visit an area and get to know different small communities.
She also hopes this particular site is going to be very family oriented.
"If we introduce children to nature, right now, they're gonna be the future bureaucrats making decisions."
The project has taken seven years from start to finish, but the result is 11 large 40m x 20m campsites with two corrals, access to water (non-potable for humans), a hitching rail, kitchen shelter, and proximity to 42km of horse-friendly trails. There are also five non-horse campsites for people, such as hunters or hikers, who also want to explore the area.
"It's really important you have a trail network right outside the campsite, so they can stay camped and not have to pick the rig up and go to different trailhead," MacDonald says, adding that what's unique about it is that the trail network goes all the way from the Dore river valley up to the alpine.
"Not many places can get up to the Alpine in a three hour ride in B.C."
She says people using the campground have to be self-sufficient in the way of bringing their own hay and cleaning up after themselves and are expected to rake up the manure into the pits using the wheelbarrows and forks provided.
She's confident it will be a huge boon not just to travellers but the Robson Valley.
"We've just seen the number of rigs on this highway. It's unreal. We're already getting lots of inquiries."
She notes the Back Country Horsemen of BC has almost 1000 members.
Last week, the local horsemen and dignitaries gathered at the site for a grand opening. Some 120 people came out to celebrate the launch including Joyce Marchand from Salmon Arm who brought her horses Kick and Bite to give wagon rides throughout the day.
"It was really a very good afternoon," MacDonald says. "(Marchand) was extremely busy and a great volunteer."
To access the site, you travel 12km west of McBride and then turn onto the McIntosh Logging Road & drive three more kilometres. There are highway signs showing a horse inside a tent.
MacDonald says they used all local labour, and the result is well worth it.
"They did go the extra mile and probably put in extra time than they charged for."
She says they encourage users to volunteer, purchasing a BCHBC membership, and/or donate toward campground maintenance to ensure upkeep and continued use.
The entire project cost several hundred thousand dollars and included building roads, logging, removing stumps, hauling gravel, building a kitchen shelter, hitching rails and corrals.
The group received a very large CERIP grant (Community Economic Recovery Infrastructure Program) from the Ministry of Tourism, Arts, Culture and sport which covered the majority of the campground infrastructure costs (road building, post logging stump removal, kitchen shelter), but MacDonald says the other funders (BC Horse Council, RDFFG and Rural Dividend and Development funds) were equally important as they would not have gotten to the infrastructure phase without their support. Ongoing maintenance will be covered through grants and through user donations.
All maps downloadable to your phone and can be accessed from Back Country Horsemen of BC website. The brochure is available at the campground kitchen shelter and at the McBride and Valemount visitor centres. The summer and winter maps can be downloaded free from the QR code on the Brochure and from the recreation tab on the Horse Council BC website: www.hcbc.ca