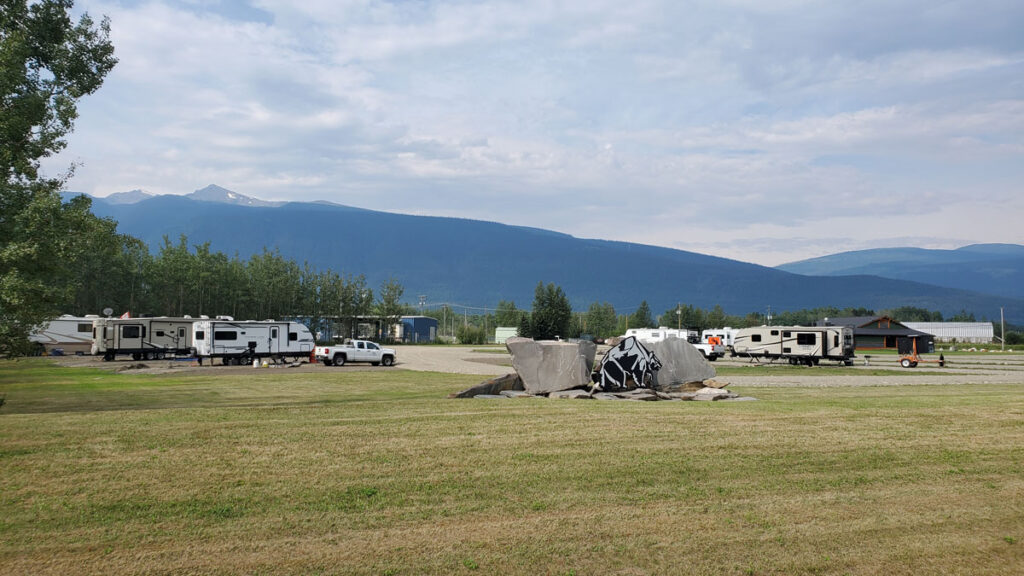 By Andrea Arnold
The Gigglin' Grizzly RV Park on the edge of McBride welcomed their first guests last week. Although the campground isn't a hundred percent complete, a road construction crew working west of West Twin asked if they could use sites. After some discussion, owner Chris Fry and office manager Linda Fry agreed, but said they are not open for general use just yet.
"We are excited to accommodate the paving crew," said Linda. "We look forward to opening to the public once we are ready."
"They (the paving crew) are gone during the day and we can continue working on development," said Chris.
The 24 full hook up sites are ready for use with access to water, electrical (either 30 or 50 amp) and sewage. 20 sites are pull through and the other four are back in spots.
The campground shares the property on the west end of town just off the highway, sharing access with the pub with the same name, but is its own entity.
"It helps provide a lit up, populated first impression for visitors arriving from the west side of town," said Chris.
The Fry's started planning for this expansion about three years ago. There have been several unforeseen delays such as covid and some more predictable challenges like figuring out how to work with existing village infrastructure.
Linda is thrilled with the work that has been done so far and is really happy that they have been able to utilize local contractors for the duration as well as locally purchase supplies.
Chris continues to work on the site, making adjustments, providing maintenance and grounds upkeep. He says there is the possibility of picnic tables for the sites and further landscaping, but does not see those projects being completed this season.
Once fully operational, they will be offering nightly, weekly and monthly rates. Chris says he expects to be open into October, but as this is the first year they are receiving guests, that may change as they feel out the demand.