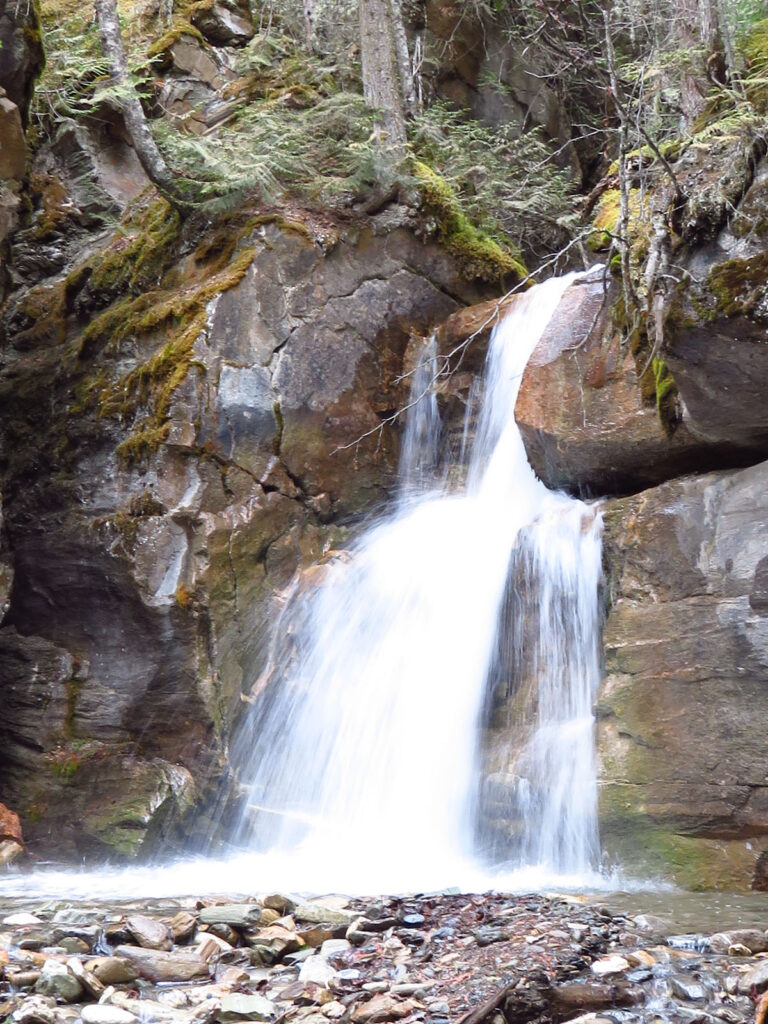 By Andrea Arnold
Last year, the McBride landmark and locally-treasured Rainbow Falls was listed for sale, leaving locals wondering what that might mean for those who hike the site.
New owner Kate Gentles fell in love with the property the way it is, and that is what she wants to preserve.
Following the death of her father Mike last fall, Gentles started looking for a piece of land that she could purchase in honour of him, and her mother Aileen who passed in 2012.
"When I received my inheritance, I knew this is what I wanted to do," she said. "My parents were naturalists. They were conservationists with a healthy respect for the land. They loved wildlife, flora and fauna."
Gentles searched across BC looking for the perfect place. The property needed to strike a chord with her, and she wanted it to be somewhere her parents would be proud to be attached to.
"My cousin sent me the link for Rainbow Falls," she said. "It is perfect. It has raw land, moving water, a view and an ecological reserve at the top of the mountain."
It is such a perfect spot that she is sure that it would have been only a matter of time before someone purchased the land for the purpose of development.
Gentles plans to put a small off-grid cabin at the top of the property, not too near the falls, that she will use mostly during summer months. She will need to clear a short driveway from the Teare Mountain forest service road, but only intends to remove the trees that she has to in order to complete the project. The other item that she wants to place on the property is some form of plaque or bench displaying her parents' names.
She learned good forest stewardship from her parents, and if a fallen tree is harmless, not creating a dangerous situation, or is habitat for some animals, birds or insects, she will let it lie as it has fallen. She does plan to use the trail regularly and will take action when needed to make sure it remains safe and usable for anyone who wants to come explore the falls, while keeping it as natural as possible.
"I want good people enjoying it for good reasons," she said. "I think that the people who visit are very respectful. I haven't seen a lot of garbage left behind. But, if I start noticing a lot of garbage lying around, then I may have to rethink the open trail policy."
Gentles grew up in a small town in Alberta and was immediately reminded of home when she arrived in McBride to check out the property.
"With the train station at the end of the street and the angled parking, I felt at home right away," she said. "I am looking forward to getting back to small town life, to community."
Gentles served in the Canadian Army for 22 years in the Princess Patricia's Canadian Light Infantry serving out of Edmonton. After her years of service, she started a company doing commercial office installations mostly in northern Alberta. For several years she spent time in both provinces, but then three years ago, she closed up the business and moved back to BC to take care of her dad.
Her dad Mike also served, both in England and in Canada. Gentles shared that wherever he served, he worked in the area of wildlife conservation, reintroducing bison to Camp Wainwright, helping the Peregrine Falcon to recover and rebuilding salmon spawning beds in local rivers. Aileen, Gentles' mother, was an artist, proficient with words and music. The couple met when she was on a performance tour of BC. She brought community through arts wherever she called home. In their final move together, they built their dream home along the Eagle River in Sicamous BC where they could enjoy the natural beauty on their doorstep.
This move to honour her parents through the natural environment of the Rainbow Falls property is not a short term decision. As part of her desire to keep the land as natural as possible, she will have arrangements made to have any structure she erects removed once she is no longer able to visit the site.
"The cabin will come out, and the driveway and cleared space will be returned to the trees."
Gentles fell in love so much with the natural state of the property that she intends to make plans that reach beyond her physical presence. She is unclear exactly how the plan will look, but she is committing to making sure the property can never be developed by setting up a trust, or conservation site or some other method of preservation.