Submitted
When you spend your youth as a professional hockey player working the European circuit, then it only makes sense you start up a hockey league while camped out in Valemount building a pipeline.
"We saw an opportunity and the community was onboard immediately," recalls Buddy Smith, TMEP HS Lead – Spread 3/4A and former professional rink rat. "We were able to pull together five teams and it was a lot of fun and a great mental health boost for everyone involved."
Buddy and TMEP Damage Prevention Lead Chris Burke, another former pro player, were chewing on the idea of a hockey league when they realized that they knew who they needed to talk to. Enter Jamie Mintz, Valemount's sports organizer extraordinaire, who the guys had met playing baseball and golf. "Jamie did everything from organizing the insurance, the ice time, to selling 50/50s, and organizing the refs to name a few things. We couldn't have done it without her." Together the trio worked out the logistics and then put the league into action.
One TMEP squad, three Ledcor teams and a group of local players rounded out the fifth team. The Trans Mountain squad called themselves the Wood Rats and the others got coloured jerseys – blue, green, white and grey. A game results board captured the team names officially as Chiefs, Bernicky, Jayan McAndrew and Lenard Sillito.
"We wanted to make it inclusive to all players, no matter the level that they had played," explains Buddy over the phone when he had a moment to discuss his return to the rink. "It also wasn't just a men's league as each team had a couple female players – one team had four.
"We decided to make the league as professional as possible and to do this we paid for a refereeing clinic for any local folks who might be interested. We also trained score keepers to run the clock and play music to get even more folks involved. All positions were compensated for, just like the refs. Once we had our teams sorted and our support staff set up, we kicked things off on November 4 in front of approximately 20 fans."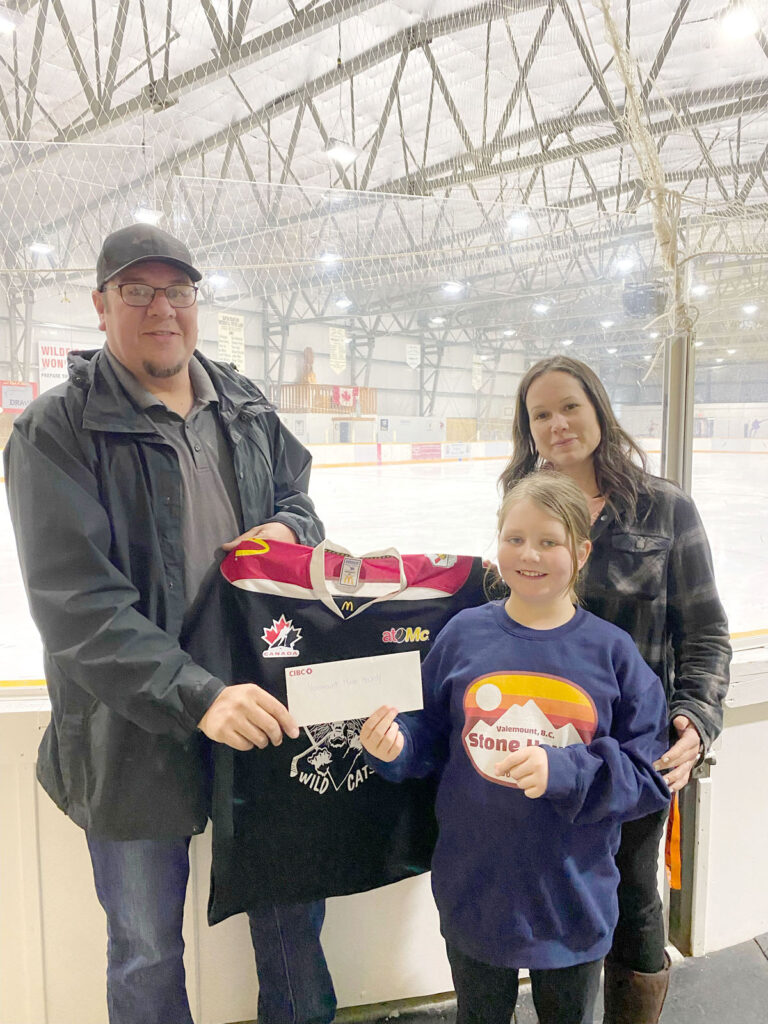 Throughout the winter, every weekend the Valemount arena parking lot was full and the neighbouring curling club was kept busy firing out crispy chicken wings at breakneck speeds.
"The benefit to the community is hard to measure," boasts Buddy. "Because of our little start-up league, our 94 games and our 100 players, we made an impact on the social scene in Valemount on cold winter nights and local businesses benefited from our patronage. I know the curling club had to order more food to keep up with the demand. Hockey players like to eat."
Over the four and a half months, the Wood Rats proved to be unbeatable. By Christmas, they were 11-0 and they rode that streak right to the league championships final for a flawless record of 19-0. The final game broke an attendance record with 300 cheering in the stands.
Around $5,000 was raised for Valemount Minor Hockey through 50/50 sales and a year-end dance. Hoodies and gift bags were donated by LSLP for every local minor hockey player. The local newspaper, The Rocky Mountain Goat, even wrote an article on the hockey league.
Players and fans got to vote on the league award winners
Most Valuable Player – Buddy Smith
Top Defense – Chris Burke
Top Goalie – Josh Martin
Top Forward – Peter Kolida
Top General Manager – Ryan Bernicky
And as an extra nice touch, the Top Fan was Jamie's daughter Kaytie Mintz, who is going to be another top sports organizer when she grows up.
On a Valemount Facebook group, Jamie received a shout out for helping organize the league. Her response, "I am definitely taking it all in while we have this opportunity to populate local sports while the pipeline is here. Next up, baseball!"