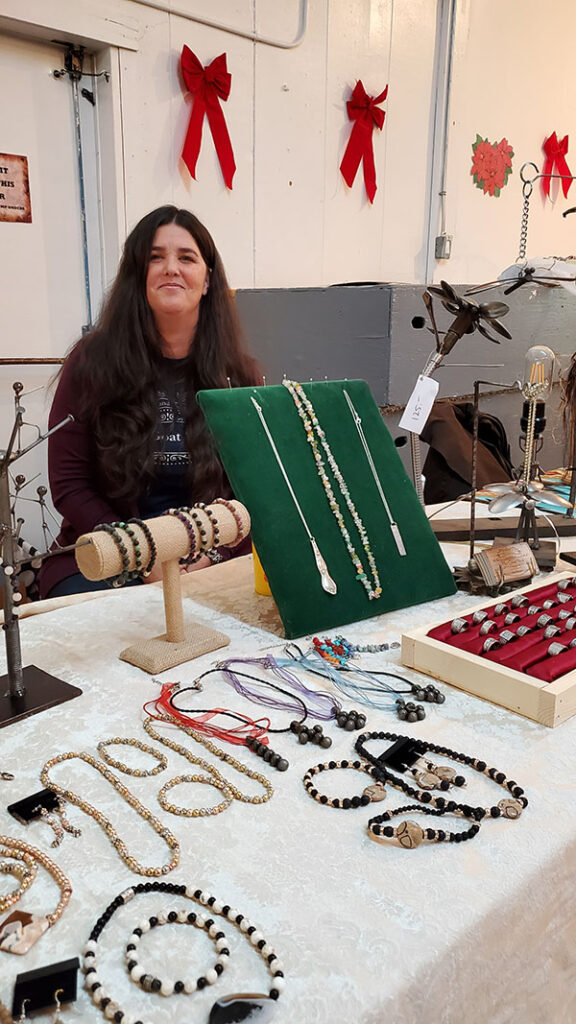 By Andrea Arnold
Stacey Kendall has been creating sculptures out of metal since some of the guys she was working with on an oil rig showed her some welding skills.
"They were bored," she said. "They showed me with a stick welder. That was about 14 years ago."
Kendall was hooked. She and her common law partner Hans moved to McBride 12 years ago. Their property has an old horse barn, and Kendall suggested they get goats to use the space. However, the barn became her work space after Hans surprised her with a mig welder for Valentine's Day.
"It became a bit of a joke; I'd say that I was off to work in the goat shed," said Kendall. "The name stuck and now (the business) is The Goat Shed."
Kendall says she has always had the ability to see designs and creative potential in random objects. What other people view as scrap metal, she sees as the potential for art. She collects materials, not usually knowing what their job will be, just that they are going to be part of something.
"I have a shop full of creature body parts," she said. "The floor is covered in them. Just waiting for me to create the creature."
Kendall works with a variety of metal thicknesses and densities.
"The thicker metal is easier to work with," she said. "It is not as finicky, or delicate. It isn't going to melt as quickly, and is more forgiving."
As she experiments and works on different projects, she continues to fine tune her skills. Hans has shown her some techniques, and some of her skills she has learned through research and practice. She has noticed that when someone who knows welding is inspecting one of her art pieces, they are looking at the welds, not the creatures.
Some of Kendell's welded creations are very large. A six-foot-tall praying mantis stands in the corner of the yard welcoming visitors, and a googly-eyed creature peers over a rock next to the driveway. She has created a gate from the metal parts of old wagon wheels and has the early stages of a plan for two large metal rings that she has been given. She has also developed skills to make smaller, detailed projects. She has dragonflies and butterflies and once she even created a Darth Vader that stood about a foot tall.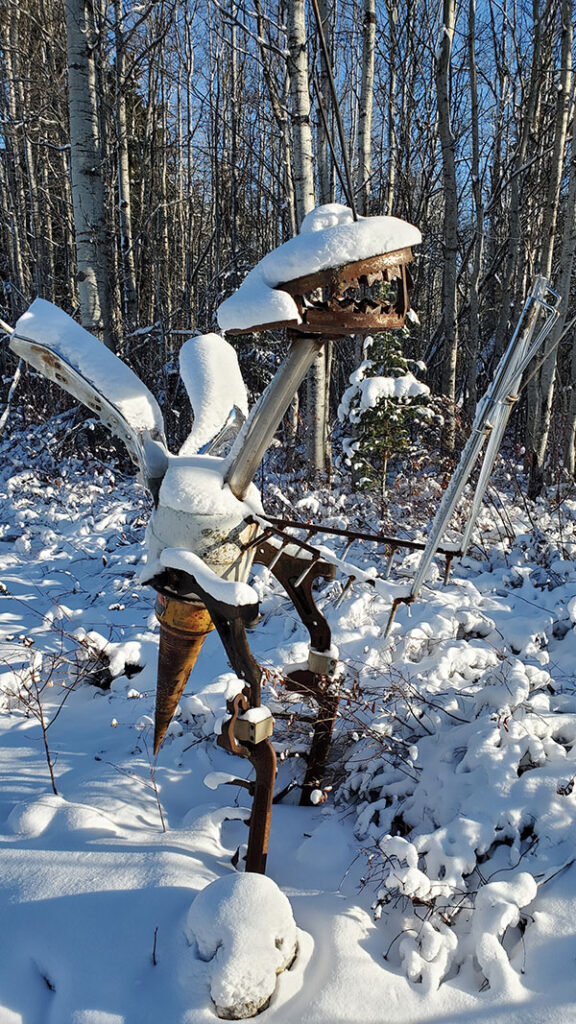 When she starts a project, she can never really be sure what the end result will be. That is one of the things that she really enjoys. And two items ever turn out exactly the same.
"It is difficult and fun," she said. "You have to roll with whatever happens during the creation process."
One of her favourite building materials is cutlery. Forks can be made to look like eyebrows and spoons can be anything from feathers to wings. The production of these creatures often results in the handle portion of the cutlery being leftover.
"I saw a YouTube video showing how to make rings," said Kendall. "I had all the cutlery ends, and I wondered if I should do that."
Kendall's close friend Fran Chiupka said that she had been telling her that for years. Kendall invested in the tools needed to bend metal and began making rings. Kendall has been using the handle part of cutlery to create the rings and is finding it very interesting to examine the patterns on each item as she works with it. One of the rings she has decided not to sell has a flower pattern across the surface.
"I haven't seen another one like it," said Kendall. "I thought it was pretty and unique, and decided this one was not going to be for sale."
Some cutlery items can hold sentimental or emotional value for people. Some cutlery comes from a loved one that has passed on. Kendall counts it a special privilege to be able to work with these sorts of items.
"It is really neat to be able to make it into something that gets used, and is seen all the time in a use other than what it was originally made for," said Kendall.
While forming the rings, Kendall doesn't weld the two ends of the circle together, but she does form it so they butt up against each other tightly. If someone wants to purchase a ring and it is too big, Kendall can remove a small portion of the metal to make it fit.
"I recommend using a piece of thread wrapped around your finger to measure," said Kendall. "If a customer gives me that information I can make a ring to fit."
Some cutlery end pieces had a future as earrings. She is also learning how to create bent bracelets.
This past summer, Kendall started renovating an old bus into another workspace. She pulled almost all the seats out and has built a workbench, a storage area and a lounge space in the back. The space is heated as well. Having the goat shed for work during cooler less buggy spring and fall months and now having the heated bug-proof bus She Shed, her window for product creation has been extended.
Between the bus renovation and the excitement of learning how to make rings, Kendall has not done too much welding over the last while. She had hoped that the Artisans of the North market she had participated in prior to covid would hold a market this season. However, they did not. So she poured much of her creative effort into creating rings instead. She also started making semi-precious beaded bracelets.
Some of the smaller Goat Shed products, jewelry, small insects and a lamp can be purchased at Welcome Home, or through the "Goat Shed" Facebook page. Kendall does not expect to be doing any big welding projects until the weather warms up in the early spring.
"It has been a while," she said. "It will be exciting to get back into it when I do."
Kendall welcomes donations of metal items, especially cutlery. However, she does ask that before showing up at the house and dumping who knows what, that people contact her to make arrangements and find out if in this case, one man's junk is indeed one woman's treasure. She especially enjoys working with silverware. She can be contacted through the Goat Shed's Facebook page.