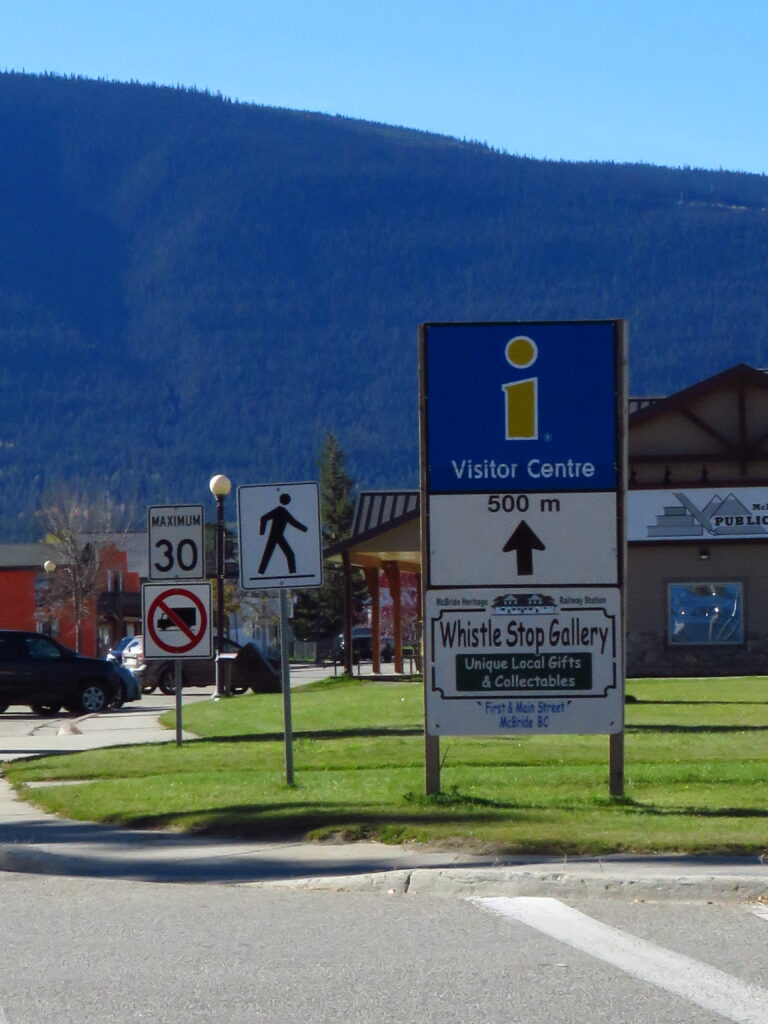 By Andrea Arnold
Several election candidate signs disappeared overnight Sunday night. Signs that had been placed near the Welcome to McBride sign as well as at least one other sign located further down Main Street were removed without the knowledge of the candidates.
Seeing election signs displayed on Village property or private property with the permission of the owners, is not new during election seasons. Candidates running for municipal government pay to have these signs made personally as there is no funding to cover the expense.
Allan Frederick was checking signs on Monday morning when he realized the signs were missing. It was Tuesday morning when Glen Frear saw that the signs were missing.
"I thought they may have blown off in the wind," he said. "I went in search, but didn't find anything."
When Diane Smith was notified that all the signs from the corner were gone, except hers, she quickly removed it herself.
"I felt I had no choice but to pull my sign," she said. She explained that she had two reasons for responding in this manner.
"Firstly it may have appeared that I had something to do with it," said Smith. "It was unfair to the other candidates to leave it up, but at least I have my sign. Theirs are missing, and they aren't cheap to buy."
Pietro Caputo didn't have a sign displayed near the beginning of Main Street, but noticed that one he had placed further up the street on private property had also vanished.
At first, candidate Joe Kolida thought that the location of the signs may have been too close to the polling stations at the Village office. This seemed to be the case as the other signs that he and the other candidates had placed around the community appeared to be undisturbed. However, the Village issued a news release on Wednesday that indicated they were not responsible for the removal of the signs.
"We consider this to be an extremely serious matter as election sign tampering is a criminal offense," said Village of McBride Chief Elections Officer Sandy Salt. "I do not condone these actions and encourage anyone with information to report it to the local RCMP."
Candidate Kat Vickery was out of town over the weekend and hadn't placed signs, so she was not aware of the situation. Once aware, she said she was sorry to hear that it had happened.
"I think the RCMP have more important things to focus on," said Vickery. "It's not that big of a deal."
Neither of the mayoral candidates were directly affected by the removal of the signs. Gene Runtz's sign was placed on the opposite side of the frontage road and did not appear to have been touched.
"I think it's funny," said Runtz. "It wasn't a hate thing towards one person. Several signs are gone. Probably just kids pulling a prank. I hope they don't get in too much trouble."
Lucille Green had opted to not place any signs, opting to visit residents door to door.
"I'm going to assume that there was no malicious intent and that possibly someone thought it would be a good prank to play," said Green. "Out of respect for each candidate who has stepped forward to serve our community, I would encourage whoever did remove the signs to return them, in a manner similar to which they were removed."
The RCMP have been notified and are looking into it.
"Sometime between the afternoon of Sunday Oct 9 and the morning of Monday Oct 10, four election signs were stolen from the corner of Main Street and the SW Frontage Road," said Corporal Colin Bissell. "Persons responsible could be charged with theft as well as offences under the elections act. Anyone with information on this can contact the RCMP at 250-569-2255 or call Crime Stoppers at 1-800-222-TIPS."
Under the Criminal Code of Canada and the Elections Act anyone caught tampering with or stealing election signs can face charges, including mischief to property or theft under $5,000 which has a maximum penalty of two years in prison.