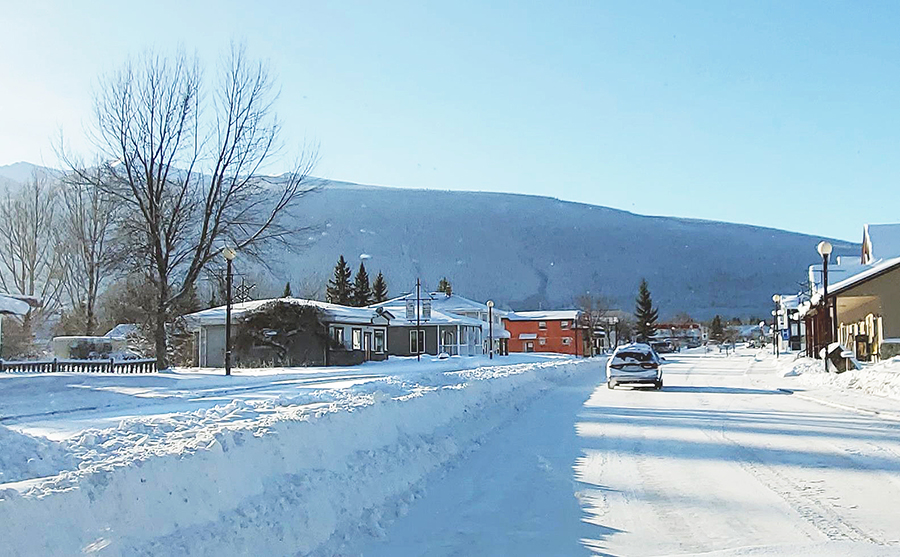 By Andrea Arnold
Those traveling the streets of McBride the last several weeks were greeted with a snow berm down the middle of Main Street. McBride Public Works Operations Manager John Peterson says several heavy snowfalls followed by the extreme cold weather hindered their ability to completely clear the street.
"The cold is extremely hard on the equipment, especially the older equipment," said Peterson. "If another big storm was in the forecast, we would have moved it sooner."
The snow berm was removed at each of the intersections along Main Street, allowing for continuous access to other village streets. As soon as temperatures warmed up to -20C, crews were hard at work to clear the piles.
"It took 20 hours for three dump trucks and one loader to move the snow," he said.
With more snow in the forecast, the Village recently sent out a letter to businesses and residences along Main Street outlining the snow and ice policy regulations. The letter states that between 4:00am – 8:00am (between October 15 – April 15), during a snow event, no parking is permitted on Main Street to allow for timely clearing. According to bylaw PW-01.2, a snow event occurs when there is 5cm accumulation on Main street. For all other routes within the community, 10 cm is considered a snow event.
Signs reminding members of the public of the parking regulations have been ordered and will be installed once they arrive.
The Village hopes that the letters and signage will improve the efficiency and quality of snow removal on Main Street.