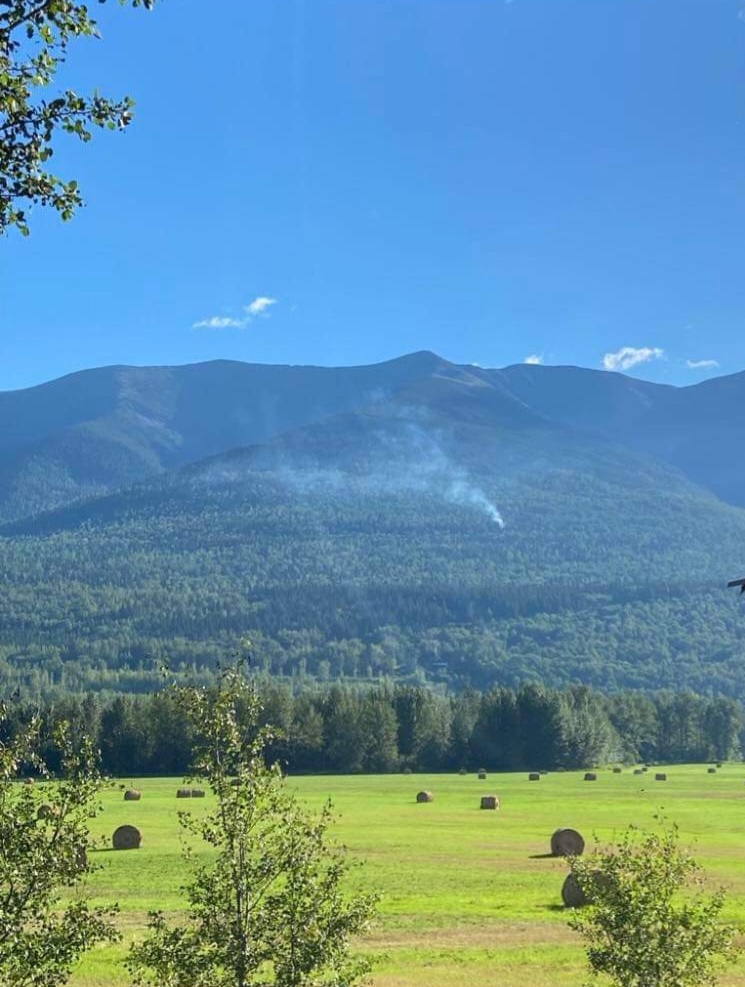 By Andrea Arnold
Between 7:30 and 8:00 Sunday morning, August 7, 2022, Donna Peterson noticed a white pillar of smoke coming from the trees not far from her daughter Sarah Olofsson's home on Mountainview Road in McBride. She took a photo and sent it to Olofsson, who then called it in at 9:03am. Olofsson was not home at the time, but they alerted all their neighbours along that side of the mountain.
Through a comment on Facebook, it was made public that some tourists passing through had also spotted the smoke and called 911 at about 8:40am. The call was passed through to BC Wildfire at that time.
"At 9:57am we got the first report of a chopper overhead," said Olofsson. She stated that she was pleased with the quick response.
Shelly Cousineau is one of those neighbours. She too was impressed by the response time of the BC Wildfire crew. She posted on Facebook that the helicopter had arrived and was doing repeated passes up and down the mountain side.
"It really puts it in perspective when you can't see the fire, but they are flying low right over your house to get to it," said Cousineau. "I will definitely be looking at our emergency plan again after today."
Peterson says she didn't notice any recent lightning so she is speculating that a strike earlier this week has been smouldering and caught fire this morning.
By 11:00am, the helicopter had left the area, and Peterson reported that she could no longer see smoke from the angle she had originally taken the photo.
Not long after, a helicopter returned with a bucket, and using water drawn from the nearby Fraser River, proceeded to dump on the fire area for approximately an hour.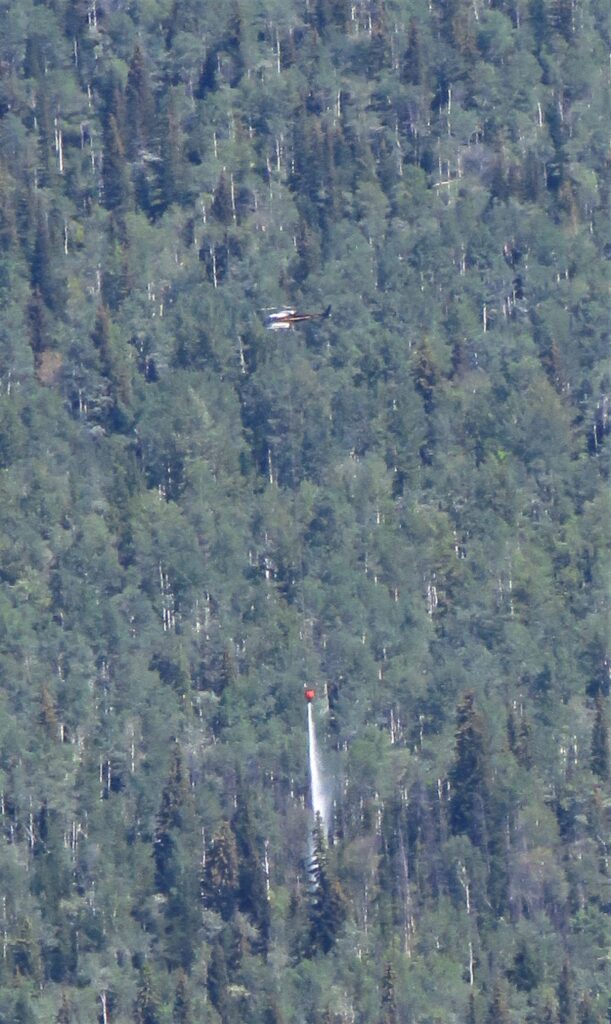 Olofsson said that the process she went through when she made the call made it easy to report it. She was put through a series of questions as she provided information allowing them to respond in a timely manner.
This incident shows that fires can happen at any time, not just right after a storm, and being quick to report them can make a difference.
The zone wildfire coordination officer Lukas Lerch confirmed that following the water dousing from above, a four man ground crew went into the site for hotspot control and mop up. They declared the fire out before they left later in the day. It was a holdover burn started from a lightning strike that hadn't amounted to anything until the weather conditions changed and the sparks ignited Sunday morning.
"We had notice of the lighting strike on the fire map," said Lurch. "With the rain that came after the strike it was hard to confirm that there was flame until it put up smoke allowing us to pinpoint its location."
There can be thousands of strikes that do not result in a fire, and it is not feasible for crews to check on every site. Following a lightning event a patrol flight over an area may occur if conditions allow.
"We really appreciate the diligence of the public in spotting and calling in the fire," said Lerch. "It allowed us to respond quickly and hastily extinguish it. A majority of the fires that the crews respond to each year are reported by members of the public. If you spot a wildfire, please call *5555 from your mobile device, 1-800-663-5555 from a landline or report it through the BC Wildfire app by taking a photo and GPS coordinates and filling in the requested details."