Expect flare-ups for at least a year: Fire Chief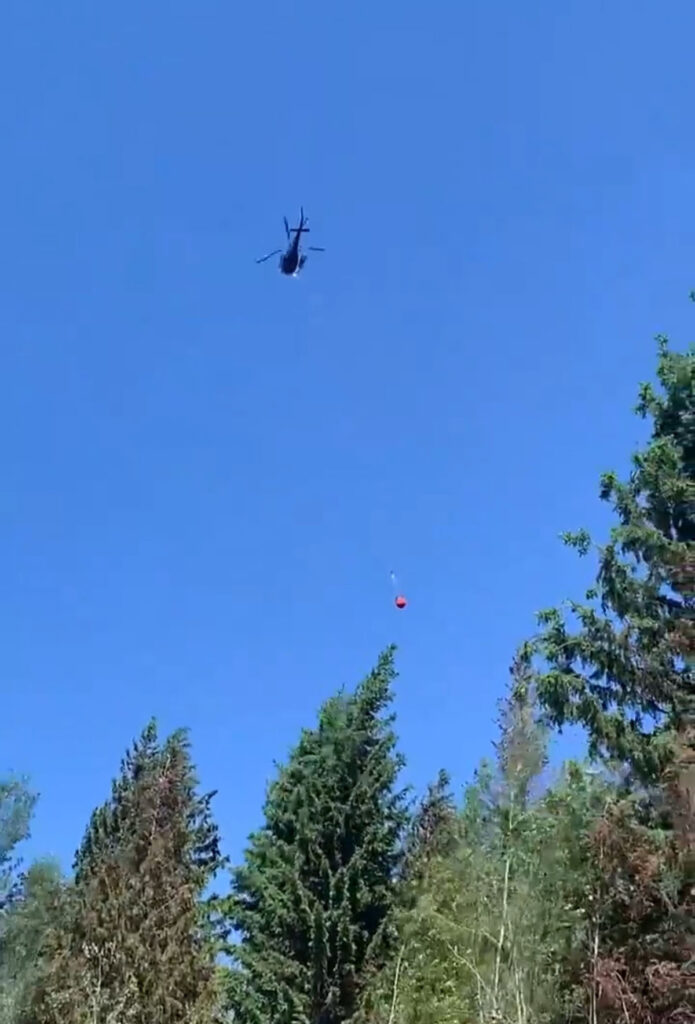 By Andrea Arnold
On Sunday morning June 4th, McBride District Volunteer Fire Department Chief Dave Hruby received several calls about smoke rising from a spot within the Teare Creek Wildfire burn. He was in the process of calling it into BC Wildfire when he received word from the Valemount team that they had already received reports from locals and crews were responding.
Chief Hruby and Deputy Chief Courtney Lipke met up with Rod Whelpton near the burn. Whelpton, Barrie and Joanne Bedell's son-in-law had been called because from a distance, the smoke looked as though Bedell's house was on fire. He provided transportation via side-by-side for Hruby and Lipke as they located the smoke location. Using GPS, Whelpton provided the exact location to crews although the smoke was visible from the air.
"The helicopter was here really fast," said Hruby. "A crew arrived in the helicopter and began suppression efforts. The helicopter hooked onto a bucket and began hitting it with water from the air. The helicopter was really fast, two minutes and 26 seconds for each return trip to the river."
Two more ground crews arrived within half an hour.
"They were Johnny on the spot. I have to compliment them on their speedy response," said Hruby.
Hruby stayed on site in case the local fire department was needed. He was there until 4:00p.m. when the crews had to leave to attend another fire reported near Blue River.
"We should expect flare-ups like that for at least a year," he said. "Wind and heat can cause embers to flare and catch nearby flammable material."
Fire Chief Hruby has been going out to a spot on Eddy road to carefully monitor the mountainside through binoculars.
"There's a spot out there where I can see the whole burn," he said. "I go out a couple of times a day."
Monday morning, he reported that in spite of the wind, he did not see any smoke during his mid-morning check.