"When we rounded the corner and saw all that smoke in the air and the clouds were billowing up, it was like 'I don't have a house anymore.'"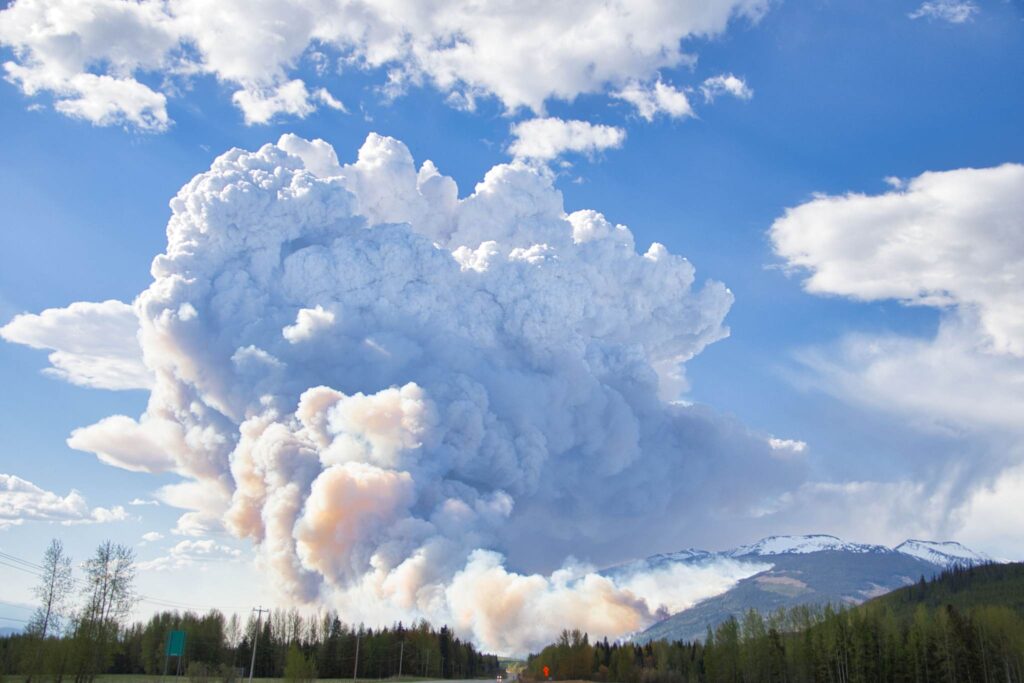 By Laura Keil
When Joanne and Barrie Bedell saw the colossus of smoke dwarfing the mountains above their home near Hwy 16, they were sure their house was gone.
The couple had driven back to McBride on Friday May 5th after being away, not knowing what devastation awaited them.
But despite 90 per cent of their 80 forested acres being burned, they didn't lose their house. And Joanne was firm that, despite losing several sheds, vehicles and possessions, the only thing that matters is that everyone is safe.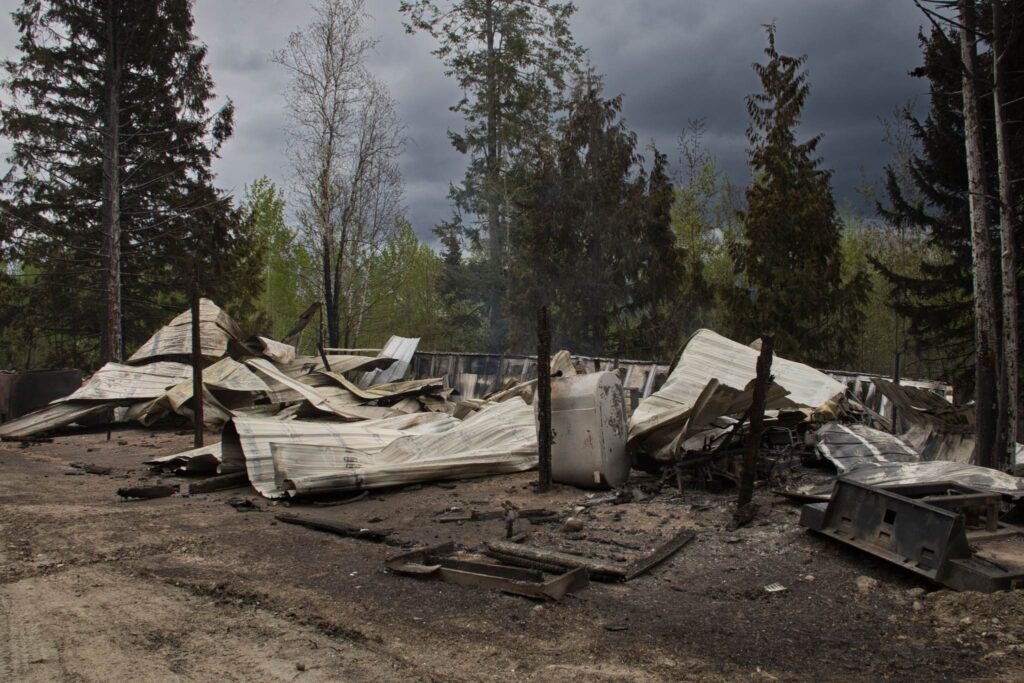 "My faith is not in possessions. Everybody is out alive, and that's a good thing."
By Friday noon on May 5th fire crews had nearly contained the fire that had started on Thursday — until winds picked up. The wind frothed the fire from 47 hectares to 600 within half a day, and was blowing towards the village.
"The fire was five kilometres away, and within no time at all it was sitting at the door of the village of McBride," said Mayor Gene Runtz.
61 addresses were put under evacuation order including all properties north of the Fraser on Mountainview Road and Koeneman Road, and hundreds were put on evacuation alert, including the entire Village of McBride.
Four Initial Attack crews, seven officers and volunteer fire departments from McBride, Valemount and Beaverly responded. A water bomber and helicopters were also on scene. Local people pitched in to put out hot spots on private land, while others made food for the firefighters and aided evacuees.
After heavy rains aided the hard work of firefighters over the weekend, the evacuation orders and alerts for properties in the vicinity of the Teare Creek Wildfire near McBride were rescinded. No serious injuries or deaths have been reported, though several property owners lost outbuildings. Mayor Runtz said the fire began with a farmer burning his field, though no official reason has yet been reported.
Barrie went home and surveyed the forest that was supposed to supply his small mill with wood. Now the couple, who has lived at the property across from Jeck Road for 11 years, will look at a very different view.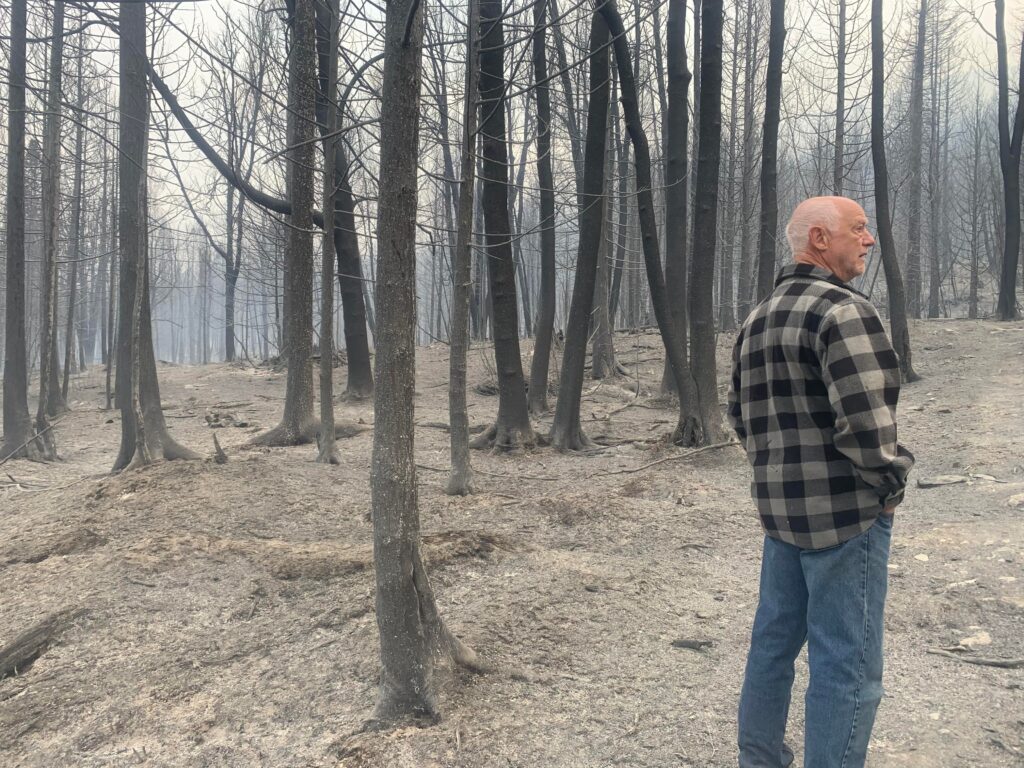 The flames had come within 100 feet from their house.
As they drove down their private road to take stock of the damage, Joanne noticed something odd – a bright green path leading through the grey burnt trees.
"That was so surreal. We're driving through the burnt forest and the colours are grey and grey and black. And then out of the blue, there's this patch that is bright green with burnt on either side and in the background you see these bright green trees."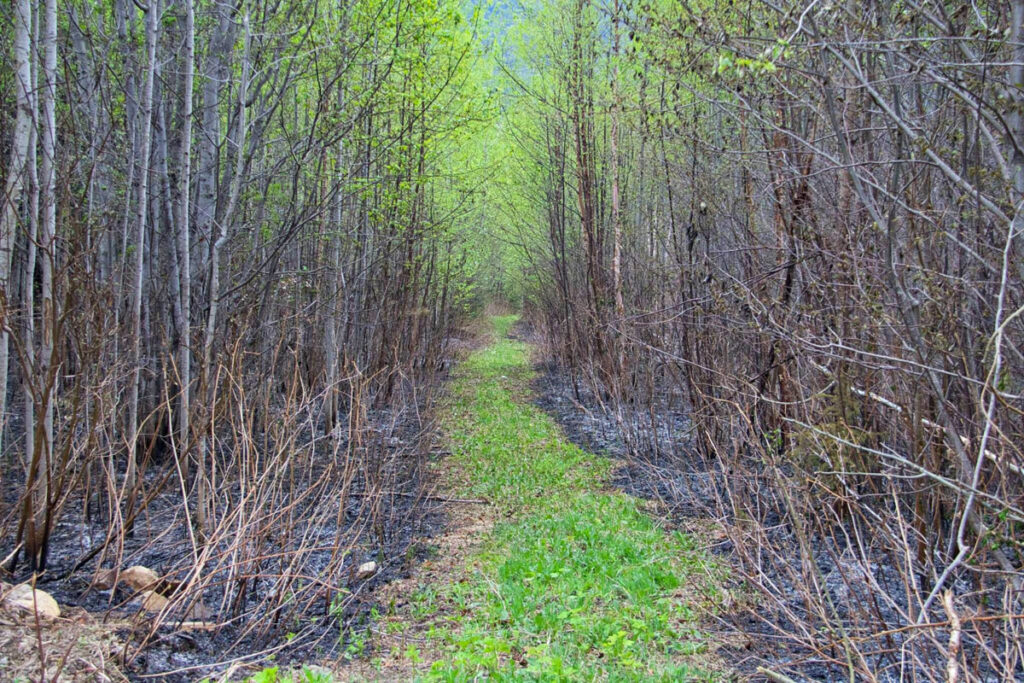 "I love Jesus with every fibre of my being, and that spoke to me." She felt it was a sign about walking Jesus' path. "God always has a plan. I'm looking for the next plan."