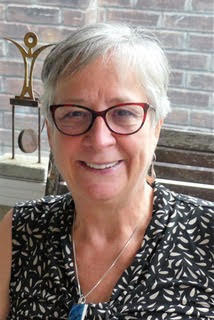 By Andrea Arnold
Judith McGill has been called a death midwife, a death educator and, less regularly, a death doula. Like the variety of titles, the services she provides to not only those looking ahead to the end of their lives, but also those who are left behind, do not follow an exact science or method. She helps families answer questions like "what should I do?" and "how can I support?"
She started seeing a need for this through her previous work as the Executive Director of Families for a Secure Future where she worked closely with families with children with disabilities.
"We were supporting aging families and seeing dependent kids outlive their parents," said McGill. "We helped them (parents) figure out what happens when they are not there to be the primary caregiver. We helped them create relationship support circles."
She has since left that avenue of employment and is focusing on being a death midwife.
"I often work with people who have been diagnosed with a terminal illness," said McGill. "For some of these people, it is unclear how much time they have left."
When called into a situation where the diagnosis is very new, often the first step is to navigate anticipatory grief. She has experienced interactions with individuals who have been emotionally paralized by the knowledge that they are going to miss the milestone events in their loved ones' lives. They want to be heard even after they are gone.
McGill's works with her clients on what she refers to as "legacy work." This can involve writing letters to be handed out at some point in the future, writing a eulogy (or leaving notes about what can or can not be said during the eulogy), gifting items, creating a slideshow, or whatever method the individual wants to use to extend their love beyond their death.
"I had one individual, an accountant, who used this time to set up a budget for his children, settle estate decisions, gift a son-in-law his tools and make sure his clients were taken care of," she said. "He was heartbroken that he was going to miss his grandson's first day of school, so he wrote a letter to be read to him on that day."
She helped her own father walk through his own legacy work as he neared death. He was an artist. Together, they made a video to be shown to the family, and they decided that his oil paintings would be on display at the service. He was motivated by this, and began painting urgently so that each of his grandchildren would receive one.
She says that often the dying individual is concerned for the people who they are leaving behind.
"I help support the family, and we hope that they will be resilient and be stronger than before," she said.
When she is brought in closer to the end of a life, the topic that weighs heavily on most is that of sorting out relationships, or "untying knots" as she calls it.
"Closer to death, people are more open to what matters most," she said.
McGill has a background in family mediation, a skill she often has to use as a death midwife. She recalled a lady who asked her to be present, and act as mediator if needed, as she and her daughter met with her daughter's father who had arrived from Germany.
"It ended up being a really good meeting," she said.
McGill is known as a straight talker when it comes to death and dying. She helps facilitate the conversation between the individual nearing the end of life and those around them.
"So often the one dying feels the need to look like they are fighting for their life for the sake of those around them, their family or caregivers. Those around see that the end is near, but feel like they need to fight for the person to live. That if they don't, they will seem uncaring . That is an important piece of the conversation."
Often there is the need for boundary setting as a person is nearing the end. Their bad days start outnumbering their good so they want to make the best of the time they have left. Strength and lucidity can be limited, creating the need for understanding and support from those providing care and wanting to visit. Also, she helps families maintain a sense of unity as they face together what is coming and navigate tough decisions. For example, when a person decides they no longer want treatment.
"I help families talk when treatment is needed, or a shift has happened and care needs to be changed," said McGill. "Or when any new decisions need to be made."
She helped her own parents have a hard conversation as her father neared the end of life.
"He wanted to die at home," she said. "When we told my mom, she said 'absolutely not. I'm not sleeping in that bed after you die in it.'"
McGill said her dad was in tears at her mother's reaction. But they did not stop the discussion there. They talked about options, bringing in a hospital bed, or even buying a new bed if that was needed, and in the end, her father's wishes were respected.
Her connection with those who are left does not dissipate following the death. She often continues to meet with them for grief work—even Thanksgiving dinner.
Grief does not only apply to those who have lost a human. She also helps grief-stricken pet owners navigate the loss of a companion.
One of the exercises she has attendees of her workshop complete is a conscious death worksheet. It gets people thinking well in advance about what is important to them. She has her own death plan that she completed 12 years ago, and that she has revised several times.
Her workshops are not only for the old and dying. One workshop called "Contemplating your death in advance" was attended by a group of 16-19 year olds. The focus of the meeting was to start them thinking, and to start a conversation about death.
"I wanted them to think about the rituals they had seen and which ones were important to them, and how they could communicate to their families what is important," she said. "Also, it helped them think about what is important within their families."
Death midwives, death educators and death doulas are being more available across the country. McGill is glad to be a part of the team that is helping others navigate the end of life.
"I am privileged to be around death. There is so much opportunity for compassion and acts to release a person."
McGill presented a workshop through Robson Valley Community Services to residents of the Robson Valley on July 20, 2022. The meeting was held through Zoom as McGill presented from her home in Ontario. If you have questions for her, she can be reached through her website https://www.dragonflycollective.ca/