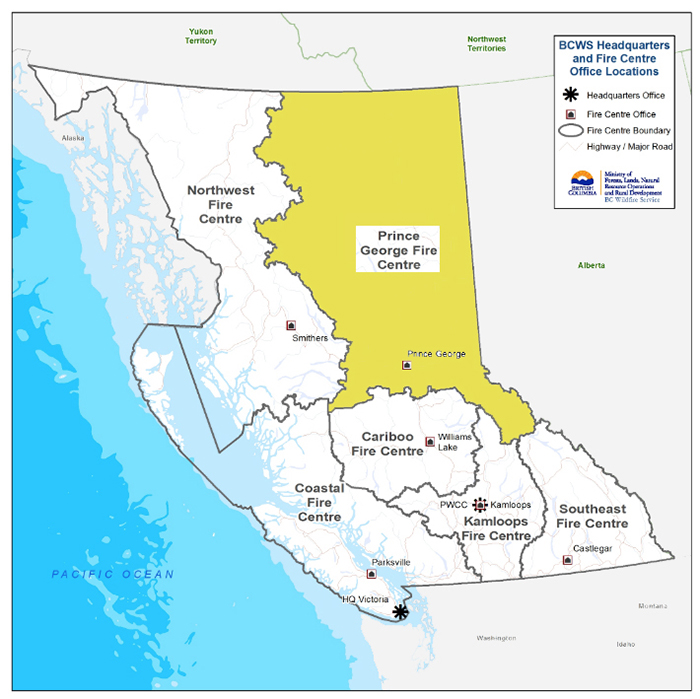 By Andrea Arnold
Starting Thursday July 28, 2022, category 2 and 3 fires will not be allowed in the Prince George Fire Centre's jurisdiction.
Due to the forecasted increase in temperatures, the restrictions for all public and private lands are being put into place to help reduce wildfire risk and public safety.
Fires that fall under the prohibited categories are any fire other than a campfire (under .5 m in diametre), one or more windrows and stubble of grass over an area exceeding .2 hectares.
The following are included in the ban: fireworks, sky lanterns, binary exploding targets, burn barrels or cages (any size) and air curtain burners.
This order does not ban campfires that are a half-metre high by half-metre wide (or smaller) or cooking methods that use gas, propane or briquettes. However, residents are reminded to follow the provincial campfire regulations. Eight litres of water or a shovel must be on hand while the fire is lit. A fuel break around the campfire, cleared of combustible debris is required, and the ashes of the fire must be cool to the touch before you leave it. At no time, may the fire be left unattended.
The BC Government website states that anyone found in contravention of an open-burning prohibition may be issued a violation ticket for $1,150, may be required to pay an administrative penalty of up to $10,000 or, if convicted in court, may be fined up to $100,000 and/or sentenced to one year in jail. If the contravention causes or contributes to a wildfire, the person responsible may be ordered to pay all firefighting and associated costs.
At 11:00am on Monday July 25, 2022, B.C.. Wildfire Dashboard showed 41 active fires in the province as the forecasted heatwave is just beginning.
To report a wildfire, unattended campfire or open burning violation, call 1-800-663-5555 toll-free or *5555 on a cell phone or through the BC Wildfire Service mobile app.