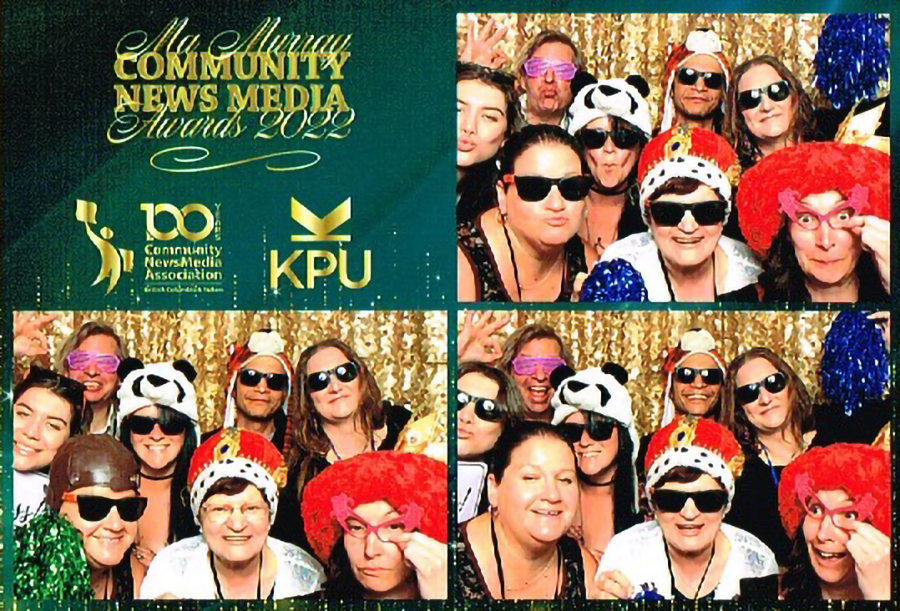 By Andrea Arnold, Associate Editor
Along with most of the other Rocky Mountain Goat staff, I had the opportunity to attend the celebration of the 2022 Ma Murray Community NewsMedia Awards in Richmond May 14th. The event, hosted by the British Columbia & Yukon Community NewsMedia Association, also celebrated the association's centennial anniversary.
The Goat received awards in three categories: Silver was awarded to the whole RMG staff – Newspaper Excellence Category A (size of circulation). Silver awarded to Arthur Tanga – Online Advertising Award for an online animated ad he designed for Bikes and Bites. Bronze awarded to Sandra James – Feature Photo award Under 10,000 for a photograph of a Pine Siskin eating a seed.
This trip gave our staff an opportunity to gather and further build cohesiveness as a team through face to face conversation. As a rurally located paper, some of our staff work remotely and this was a chance for us to meet and interact in a non-work environment.
It was a full evening of hearing about, seeing and celebrating the accomplishments of other newsprint organizations that work hard to provide their readership with a quality product. It was humbling to hear the stories behind the stories as award winners gave brief background information regarding their submitted piece. We, as an industry, take very seriously our responsibility to inform and educate our readership through not only the fun lighthearted times, but also when the topic is sad, somber and even scary.
Our goal is to continue serving the Robson Valley community through accurate reporting and sharing stories through photos and articles. Many readers that receive our paper, or read the articles online, live across Canada. By reaching people outside the valley with our reporting, we are spreading awareness of issues, celebrations, and businesses of our wonderful home.
On behalf of the Rocky Mountain Goat staff, I would like to thank you all, our loyal readers and advertising partners, for supporting us.