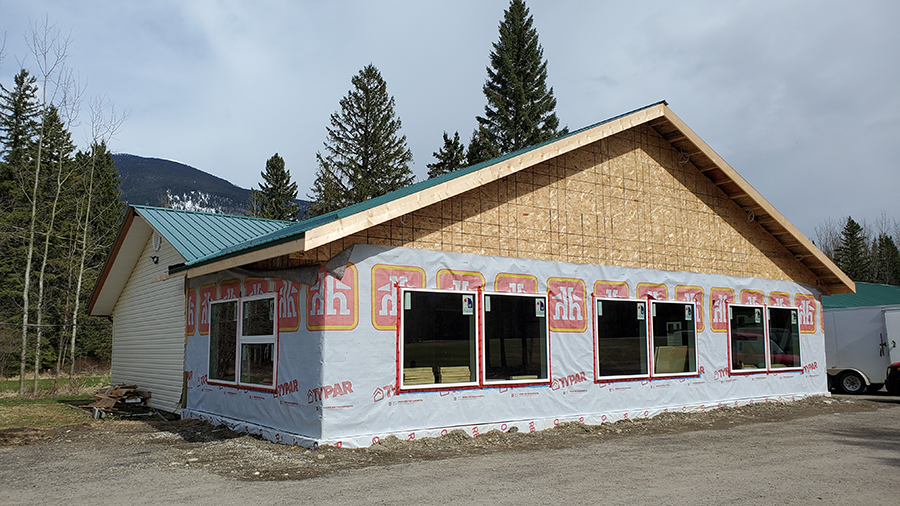 By Andrea Arnold
Construction is well underway on a 900-square-foot addition that will house an eatery and two locally run shops at the Bell Mountain Motel in McBride. The addition is attached to three existing rooms that previously were used as guest accomodation space, located in the centre of the current motel footprint.
Owner Georgina Kirby explained that part of her BC Provincial Nominee Program that allowed her to move to McBride from Britain, and begin operating the Bell Mountain Motel, included the requirement for an eatery.
The new building will house a seating area for the eatery in one half, and Kirby hopes to create a common area/lounge space in the other half.
"Three previously existing rooms have been attached to the new building will serve three new purposes as a commercial kitchen, a space for fresh produce to be picked up from both local and outside providers, and a quilting/sewing shop."
Both the produce and fiber arts facilities will be independently operated by individuals not directly associated with the motel.
The food that Kirby plans on serving at the eatery will have a British flare, using local and organic ingredients where possible.
"We will be serving traditional English chips," she said. "But we are not deep frying anything. They will be cooked in an industrial airfryer, or in the oven."
Kirby has been experimenting with recipes in preparation for food service, and looks forward to using her commercial kitchen once her hydro service is upgraded.
At this time, Kirby's plans for service are fluid. She would like to serve breakfast from 6:00am until noon, or even 1:00pm, then switch to coffee and tea service and British cakes for the afternoon.
"I ran a tea and coffee shop about 30 years ago," said Kirby. "I will be drawing on that experience heavily."
She would like to offer a big Sunday British Roast once a month if there is enough interest from the community.
"It would include roast beef, big yorkshire puddings and lots of gravy," she said.
Another option she wants to make available is High Tea service upon request.
"Not everyone wants to have the little sandwiches and cakes, but sometimes, the occasion calls for it" said Kirby. "
Kirby is very excited to see the space taking shape and is eager to see it being put to good use. It will be available for family gatherings, small weddings, workshops and a comfy spot for the non-fabric motivated partners to hang out while their companion browses the quilting shop.
Kirby hopes to have the space ready to host an open house for the community in July.