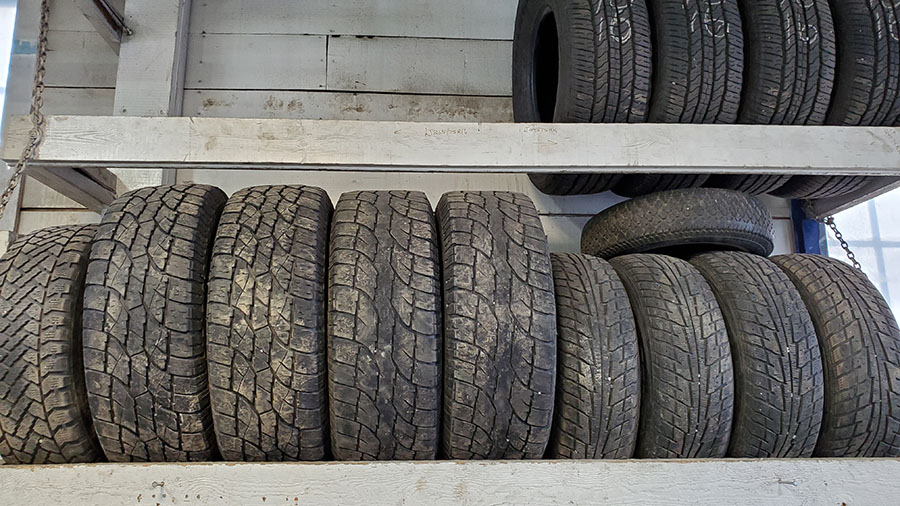 By Andrea Arnold
On March 31, 2022 the Regional District of Fraser Fort George announced that effective immediately the McBride and Shelley transfer stations, along with the Foothills Boulevard Regional Landfill, will no longer accept tires for recycling.
All other Regional District solid waste facilities will cease tire collection in July.
The reasoning given in a news release included space constraints and collection issues. In addition, it stated there are more than 20 outlets that provide the "return to retailer" service in PG.
However, the two facilities in McBride that residents are being directed to in the face of the immediate action, JNR, and 3 Peaks Mechanical, both have storage issues as well. They will accept tires from their customers following a tire change, but cannot provide a drop off place for all residents.
"Providing the service has become a liability and great expense," said Petra Wildauer, General Manager of Environmental Services with the RDFFG. "It is the Tire Stewardship BC's responsibility to pick up the tires, and they haven't. We are not paid for collecting the tires."
When approached by the Goat, both Regional District representatives for the area, Area H Director Dannielle Alan and Village Council representative Allan Frederick were unable to comment as they were just learning about the decision as well.
The media release was followed by a letter to RDFFG directors from Wildauer, containing more information.
Wildauer says there has been a decrease in pick up service by Tire Stewardship BC since last fall.
Specifically, following a pickup at Foothills on March 30th two thirds of the 3000 tires were left behind.
"The lack of adequate pick-up service creates additional liability issues for the Regional District for environmental hazards and bodily injuries," said Wildauer. It is due to the lack of commitment they have seen from Tire Stewardship BC in servicing the RDFFG sites, that they have decided to cancel the program altogether.
"Tire Stewardship BC was made aware of this issue when we received notice from the Regional District on the immediate banning of the tires at three of its sites," said Tire Stewardship BC Executive Director, Rosemary Sutton referring to the Foothills site. The group has not been exempt from the hurdles that transport companies have been faced with over the last couple years.
"This began with COVID," said Sutton. "But in the last six months it was compounded with floods and the price of gas."
They have also faced the issue of trailer availability, particularly for the north as some companies have changed their routes to only deliver into Alberta.
Tire Stewardship BC's mandate is to ensure the collection and recycling of tires in BC. They have been acting on this for the past 30 years, and will continue to work to see this through. Last year, the group collected its 100 millionth tire.
Tires that are collected by Tire Stewardship BC are transported to Delta where many of them are recycled into crumb rubber. Much of the product is taken to Abbotsford where it is turned into usable items like horse mats, truck bed liners, gym flooring, playground surfacing, and garden mulch.
"We offer grants up to $30,000 for projects using recycled rubber," said Sutton.
Through grants, Tire Stewardship BC says it has distributed over five million dollars to 96 communities across BC for projects like new floors, playground bases, walking/running paths and spray parks.
Sutton asks that residents exercise patience as they work to figure out a long term solution.
"Tire Stewardship BC and the haulers will continue to focus their efforts on finding creative solutions to collect tires," she said.
A community collection event is already being planned, and Sutton anticipates it will occur within the next month or so.
"This is what we do," said Sutton. "This is what we are here for. We welcome feedback and ideas from both McBride and Valemount as we plan out the long term action plan that will best serve the communities."
Any ideas on how the communities can best be served, can be submitted by email to [email protected]