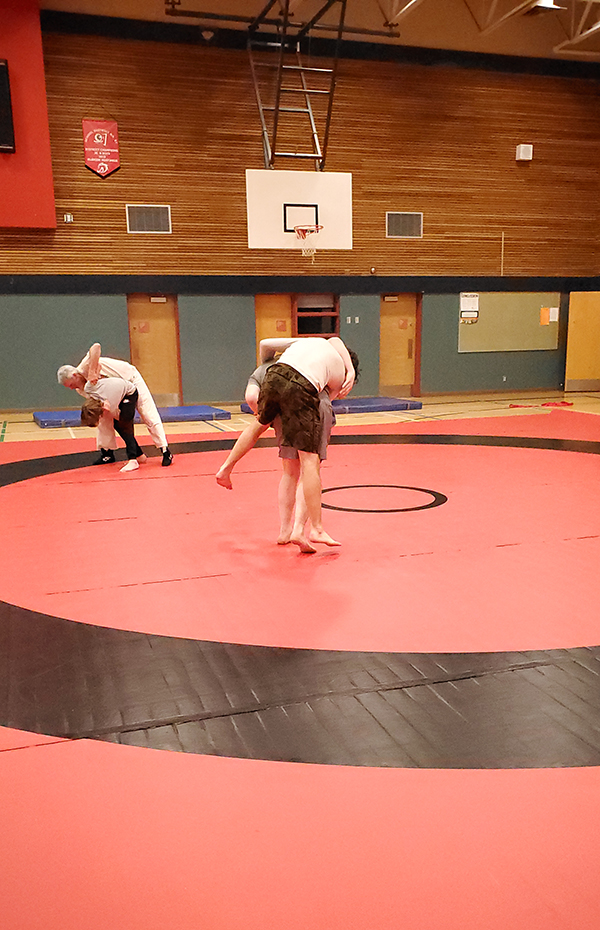 By Andrea Arnold
McBride resident Sig Harstad has returned to the valley and wants to share his enthusiasm for mixed martial arts with the community through grappling.
Harstad has started a grappling club at the McBride Secondary School on Friday evenings 7:30-9:00pm. Anyone 13 and up is invited to drop in for an introduction to the sport. At this time there are no COVID restrictions in place.
"Grappling takes aspects from wrestling, Judo and Brazilian Jiu-jitsu, and has its own set of rules such as no kicking or punching," said Harstad.
Harstad joined the wrestling club in highschool when Wes Phillips was coaching. He placed third in zone competition several times and represented McBride at the provincial level. When he left McBride, he joined the Burnaby Judo Club. Throughout the pandemic shut down, he switched his focus to personal fitness to stay in shape for when restrictions lifted. He moved to Prince George two years ago and joined the PG Judo Club.
When he returned to McBride, Harstad wanted to keep up his physical training and decided to start up the club as a way to share his passion and stay fit.
"It is a way to blow off steam at the end of the day," he said.
Harstad hopes the group will grow to include not only people with MMA experience but also those interested in learning about the sport.
"I would like to see young people come and gain some experience so that when they leave for schooling, they may look for clubs in bigger centres to continue their training," said Harstad. "The club offers a non-threatening environment to explore the sport."
Harstad is forming each practice depending on the skill level of the group members, and their desire for more or less physical combat. He is able to provide a safe sparring partner for beginners as well as someone who desires a more physical match-up.
Harstad says grappling is an inexpensive sport to get into, with shorts, a top, a water bottle and indoor shoes being the only requirements. He also has several judo gi's he can loan out.
At this time, the school is allowing the club to use their equipment, but there are a few other items that Harstad would like to purchase. He is asking that following their first free introductory session, participants pay $5 per night, raising funds to purchase equipment.
Harstad has been planning ahead for the summer school closure, and is inquiring if the arena could be a possible location. He has the required insurance coverage as it is a physical sport, and participants need to be aware that injuries are possible.
Harstad only plans to be in the valley for the next two years, but he would like to see the group grow to a sustainable size, and continue after he leaves. This means he needs to find a second trained individual who shares the passion and vision for the club to continue it.
He would like to bring in guest coaches that can address members interests and create a group that not only trains together, but plays. He has in mind events like group hikes and watching fights on TV.
"I hope to develop a core group of 10-15 dedicated people to treat it as a club," he said "To expose younger kids to sports options, and provide physical exercise options for community members."
Harstad can be reached at 250-569-7013 for more information about the club.