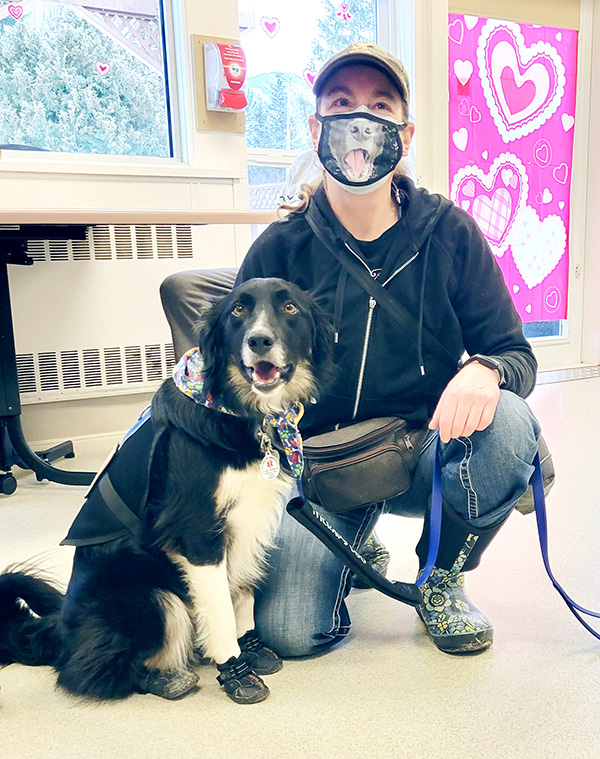 By Sandra James
Skidboot was born in Edmonton Alberta during the start of the pandemic, he was the last of the litter. Owner, Birgit Stutz also calls him Skid. Little did she know when she gave him a home Skid would be the one to rescue her.
The name Skidboot comes from a famous smart blue heeler and is also a type of equipment used as protection for a horse's leg. The name suits him, as he lives at Falling Star Ranch in Dunster with Stutz and the rest of the ranch family.
A few years before Skidboot came to the ranch, Stutz was diagnosed with agoraphobia. This condition is very debilitating for the person who has it. They find it difficult to leave the house and do things others find easy such as running to the store and being surrounded by people. For Stutz, being in a store can cause great anxiety.
Skidboot's main job is crowd control by creating a buffer between her and other people, and also keeping her grounded. He can do numerous other tasks as well. He can pick up and retrieve items, open doors by pushing the accessibility button, and guide Stutz to a designated person. He has also been trained to apply deep pressure therapy. He lays on Stutz's chest to soothe her when an anxiety or panic attack occurs.
The pair enjoy interacting with the community during training trips into town through activities such as readings at the library for children, visiting the long term care residents at the McBride hospital, visiting the police station and fire hall. They are currently doing specific tasks to train him for his first trip to Europe this spring.
During these training trips, Skid has three working vests and wears boots for protection from salt, hot pavement, gum and spills in stores.
Stutz trained Skid to become certified for his Public Access Test which he passed in October. Currently there are no federal rules for public access of any service related animals. Only provincial. The BC Public Access Test certifies a working dog every two years, up to the age of eight as most are ready for retirement by then.
There are three types of working dogs, service, therapy, and emotional support dogs. Skid began his training as a therapy and service dog. It isn't easy to get a therapy, service or medical dog. The cost ranges between 25-40 thousand and there are only about nine agencies in Canada who provide them based upon medical necessity. Agoraphobia is lower on the list. This is one of the reasons Stutz trained Skid herself. Working dogs are usually Golden Retrievers, Labs, and German Shepherds. Border Collies are not as common. Only service dogs are allowed to accompany their handlers into non-pet friendly places (public access rights).
It is not for everyone, though, as having such a cute dog also attracts attention which is something you may not want.
When he is not working, Skidboot gets to play around the ranch. His favourite toy is his Jolly Ball which he stole from the horses. He loves to run around with it. He also loves to play fetch and tug of war in his time off. He enjoys rides around in the quad box and knows this is his safe spot for all the horses when it's feeding time.
You can follow Stutz and Skidboot by searching for "Service Dog Skidboot" or "Skidboot the farmdog" to follow them on youtube, Instagram, and tiktok.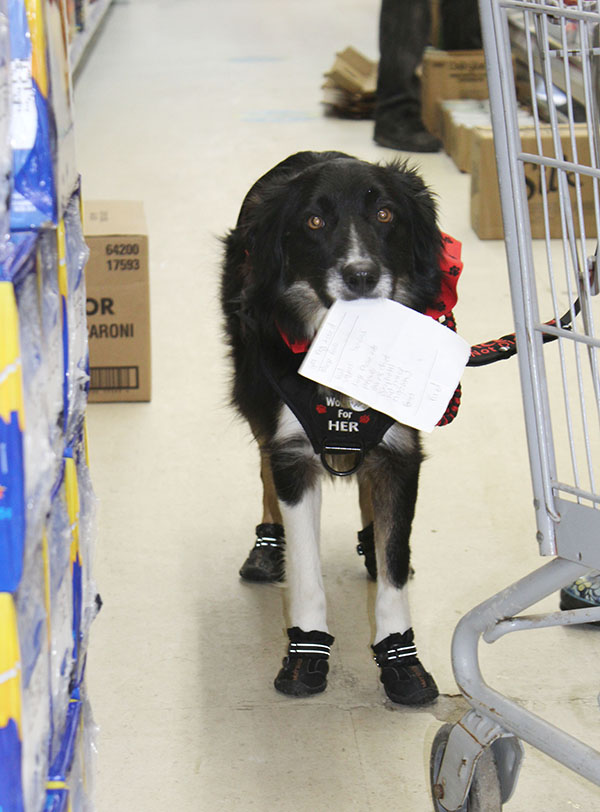 Service Dog Etiquette for the public:
No touching the animal while they are working, distracting them.
No allowing your pet to go up to service animal
No offering food or trying to get their attention
Leave space between you and the dog team so they can work
Ask owner/handler before you interact with the dog as there is a command that needs to be given to them 
If you find a service animal alone, do follow them as their human may need assistance